So the ginormous rental lens I mentioned a couple weeks back?  Well, it came in.  But it was for a Nikon.
I have a Canon.
Someone goofed.  It wasn't me.  It wasn't the lens rental place.  It was HE-who-shall-remain-nameless-because-I-think-he-works-sooooo-hard-and-I-appreciate-HIM.
HE fixed the problem, and on Wednesday, the re-order came in.  Needless to say, I've been taking it out as often as I can!
Wednesday, after the visit with my editor and publisher *grin*, I went out in the kayak to check on the loon family.  All three are doing well.  The baby has grown quite a bit!
He's lost his down and has his parents markings.
Both adults are still feeding him, although I noticed he is diving for much longer periods of time now.
Listening to their where-are-you-wails and the soft hoots can always calm my soul.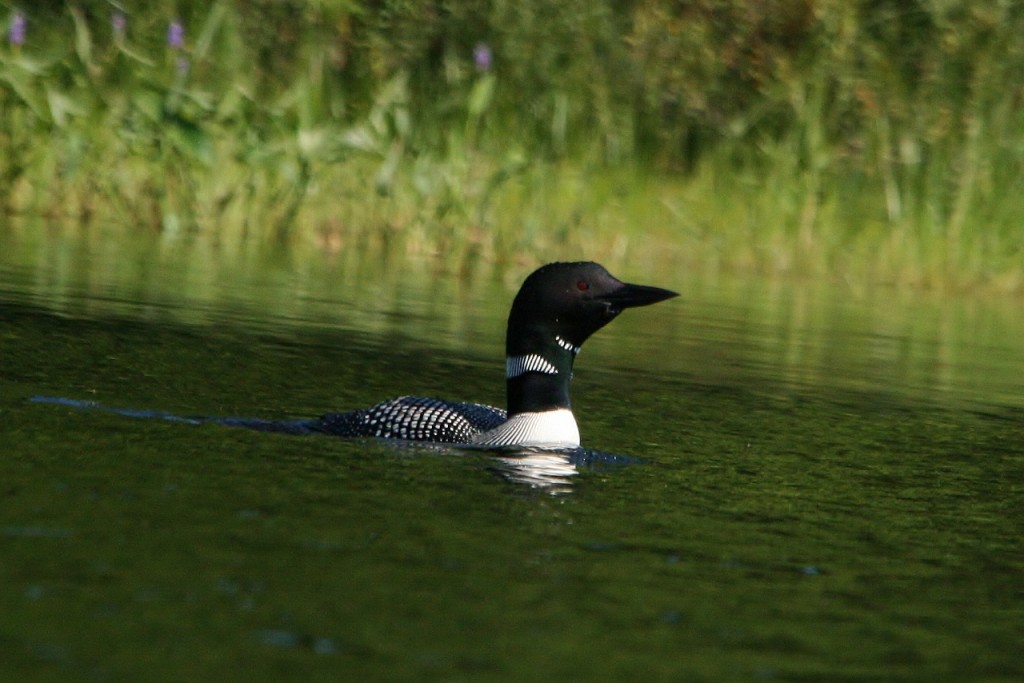 The sun wasn't in the best position for photos, and I didn't want to disturb the loons by trying to get around them.  Still, these images came out pretty good, I think.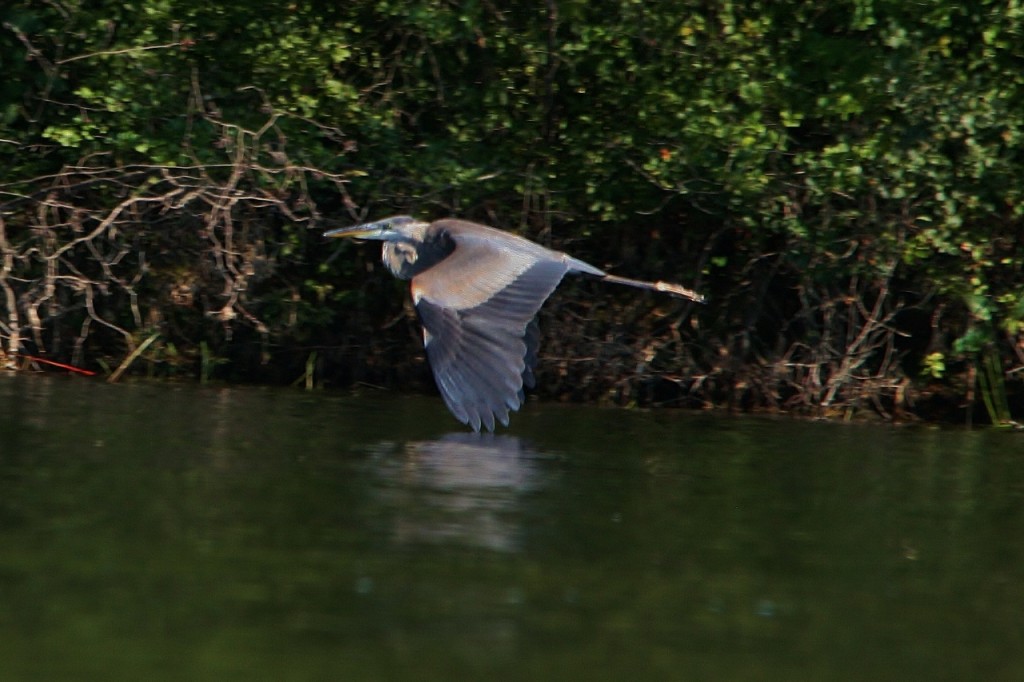 This gray heron has been quite elusive over the past few years.  These are the best pics I've ever taken of him!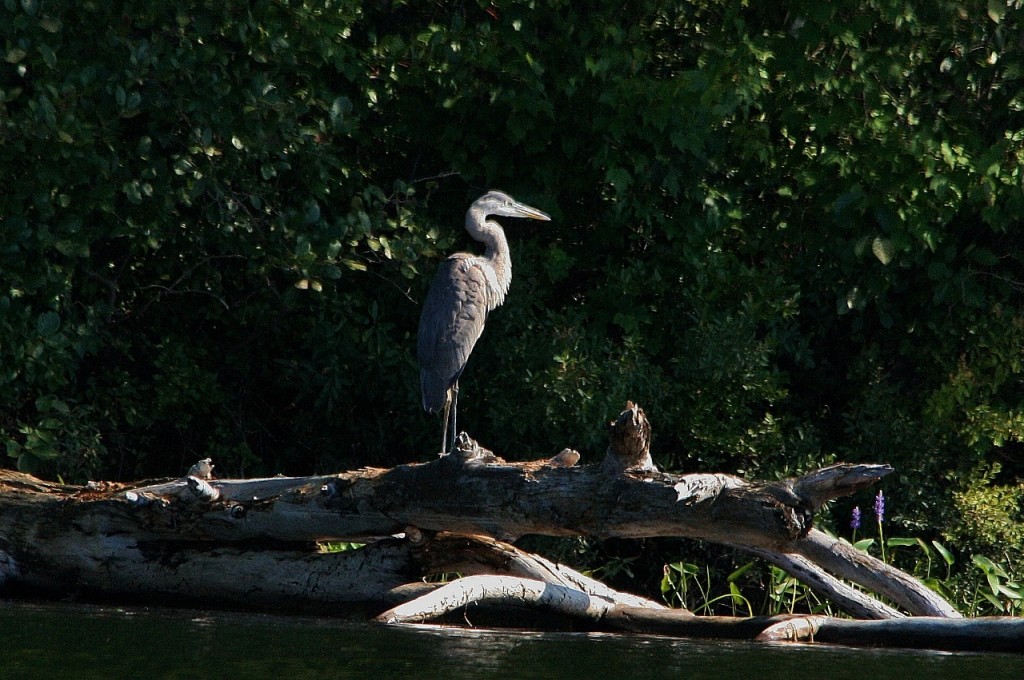 And then of course, there are my eagles.  All three eaglets have survived, thank goodness, and they're seen quite often around the lake.  The youngest is quite a yeller, I'm afraid.  He cries and cries and cries for food.  The day I saw him, he was bugging an adult so badly, it chased him down the lake.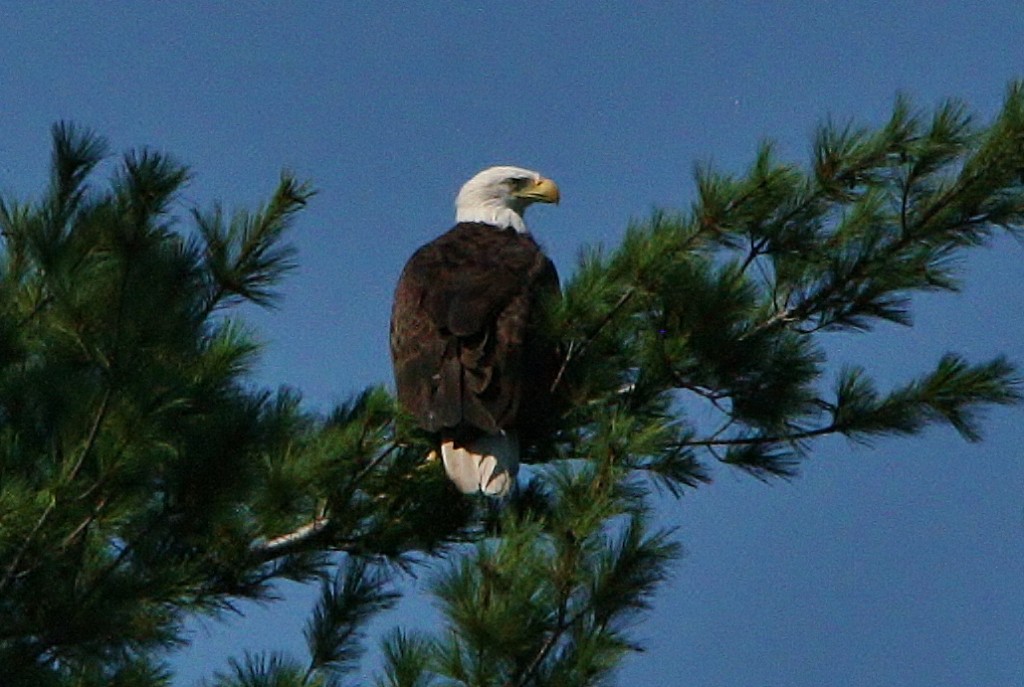 Here's the little one, back on the nest, begging.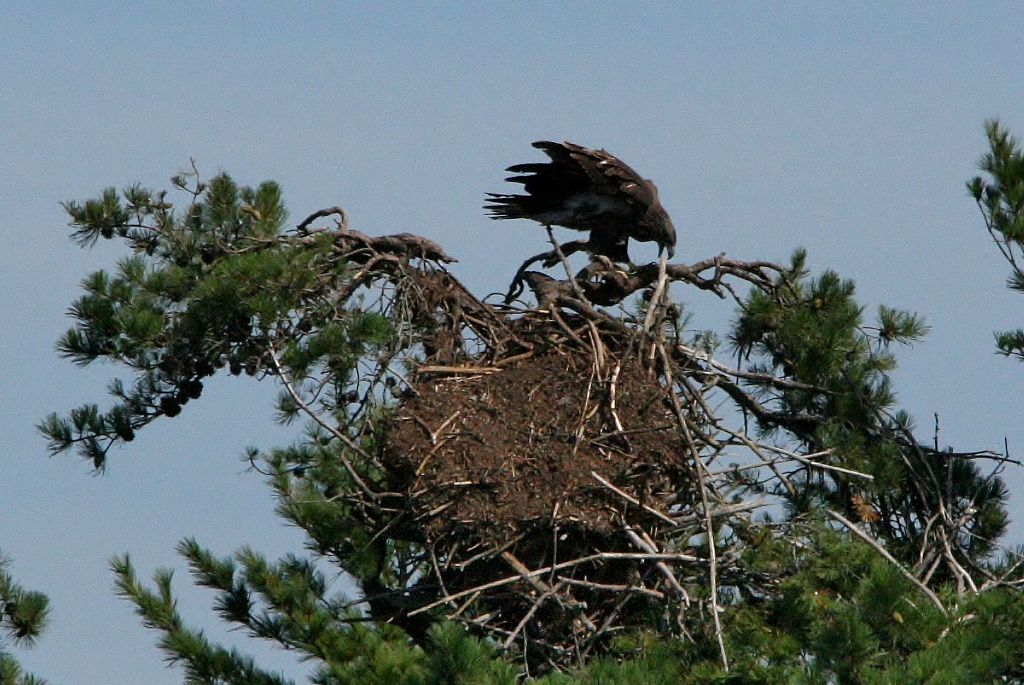 As you can see, the nest has fallen.  Some campers swear it was struck by lightening last week.  I think the cause could be from the weight of three very busy eaglet triplets.  In 2005, an amazing wildlife biologist came to band that year's eaglets, and he let me follow along to document it. He'd estimated back then, that the nest weighed 700 lbs.  They've added to it every year since. And because it sat at the tip-top of a red pine,  he warned that it wouldn't last forever.  Sadly, he was right.
I did read today, though, that eagles who are successful breeders year after year (and I can attest that these two are!)  will re-nest in a nearby tree.  I hope, I hope, I hope, they do!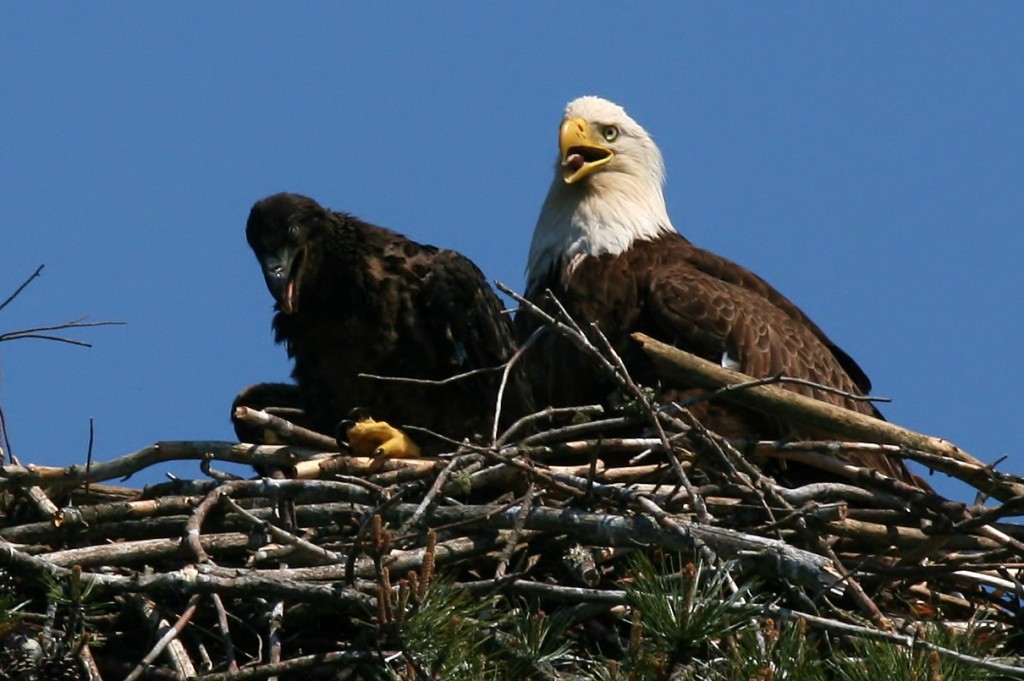 So, why do I keep renting these lens?  Well, you see, I'm trying to find just the right one. I'm going to treat myself . . . and it's going to come in very handy.
Not only do my campers like to see wildlife photos on the campground blog, but I've just signed a contract for a middle grade novel to be released in August of 2013.  Cooper and Packrat:Mystery on Pine Lake is a story very near and dear my heart, because these  12 year old boys are nature geeks like me.  Their story is an eco-adventure mystery set on Pine Lake at Cooper's family's campground.  Their first adventure focuses on a pair of nesting loons who are in danger.
When Islandport Press posts their official press release, I'll be sure to let you all know.
In the meantime, I think I'll try to get out on that lake very, very early tomorrow morning.