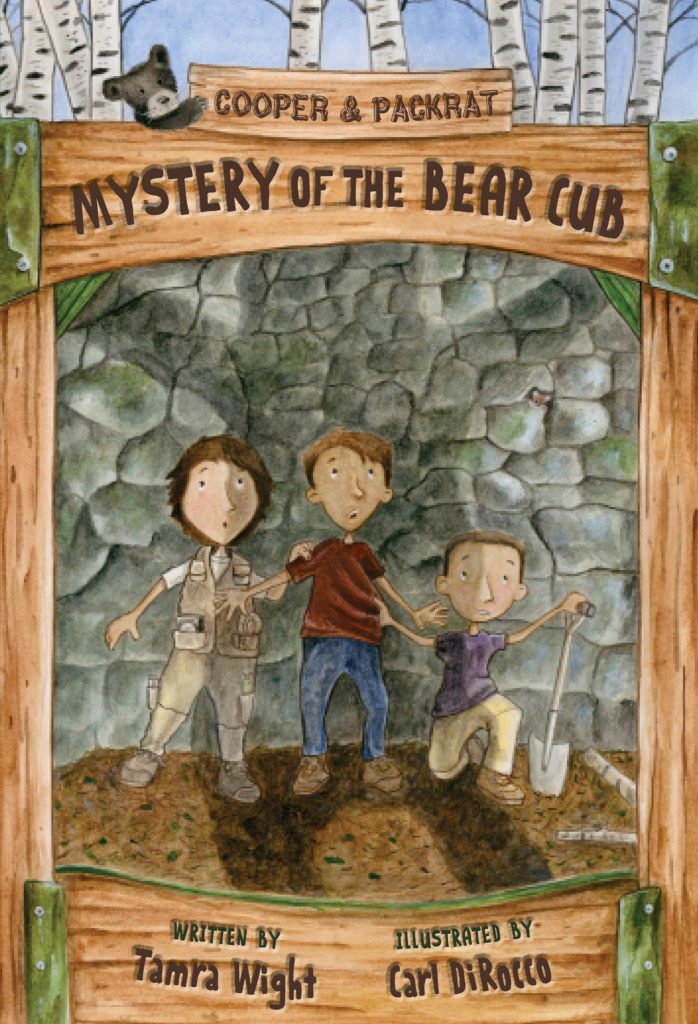 Cooper and Packrat's 4th eco-adventure!

The boys are down in the dumps—literally!
Someone is dumping trash on the Wilder Family Campground's property. It's bad for the campground, and bad for the wildlife there, too. When Cooper, Packrat, and Roy find a fox in the woods with its head stuck in a jar, they know it's time to investigate. But when the boys start digging, they stumble headlong into the path of a garbage truck and a hungry black bear.
Tamra Wight keeps the adventures coming in Book 4 of the award-winning Cooper & Packrat series.
---
Reviews and News
Mystery of the Bear Cub is a Junior Library Guild Selection      and
A 2018 Green Earth Book Award, Short List Book
"The author's love for the forests and wildlife of Maine is evident in every detail of the environs. Readers familiar with the Maine woods will recognize it, while those who aren't will feel like they're visiting for the first time . . . good-old fashioned summer fun with a mystery at the center."
—Kirkus Reviews
"These are delightful kids, smart, loyal and respectful, and it's a pleasure to read about their exciting mystery adventures."
––Bill Bushnell, Central Maine Newspapers
Read the complete review here.
"The fourth volume in author Tamra Wight's popular Packrat series for young readers ages 8 to 12, "Mystery of the Bear Cub" is an impressively crafted and consistently entertaining read from first page to last — making it unreservedly recommended, especially for elementary school and community library Mystery/Suspense collections."                                           –Midwest Book Review