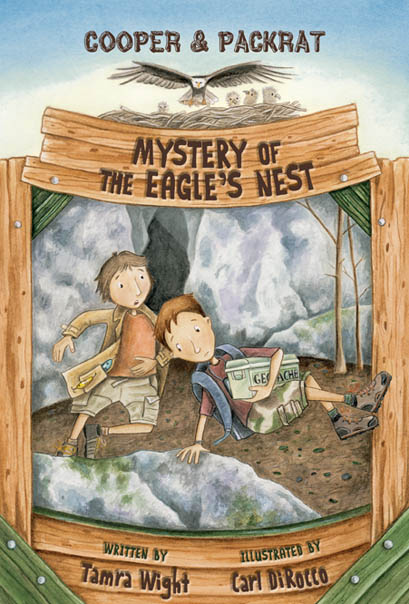 Cooper and Packrat are back
with a new, exciting adventure! 
Did you know that people buy and sell eagle feathers, claws, and parts? Cooper and Packrat didn't, either. But they're learning fast. When the boys find a box of valuable eagle parts, they soon realize that the owner will stop at nothing to get them back, in this fast-paced middle-grade mystery from Tamra Wight.
Trouble has returned to Wilder Family Campground. When Cooper and Packrat find their geo-cache box full of illegal eagle parts, their lazy summer is over. Someone wants those valuable parts back. And if they can't get the parts back, they'll settle for holding one of the rare Pine Lake eaglets hostage instead. Cooper, Packrat, and Roy must elude two goons, tolerate an annoying teenager, keep tabs on a shady new camper, and stake out the eagle's nest — all without getting grounded. Tamra Wight has written an exciting follow-up to "Mystery on Pine Lake," ripe with adventure and natural history, but above all, a tale of compassion and friendship.
________________________________
 Reviews and News
Mystery of the Eagle's Nest is a Junior Library Guild Selection,
A 2015 Green Earth Book Award, Short List Book   and
A 2015 NESCBWI Crystal Kite finalist
"In the second eco-mystery in the Cooper and Packrat series, Cooper and his friends are on the trail of eagle poachers . . . The well-plotted story with spot-on kid dialogue will have readers alternately laughing and puzzling out the mystery; DiRocco's simple black-and-white illustrations neatly highlight both funny and serious moments. This mystery soars while the feathers and fun fly. (Mystery. 8-12)"    ~ Kirkus
"The story, enhanced by the illustrations of Carl DiRocco, causes a bit of a dilemma. On one hand, readers won't want to set the book down. On the other hand, the story will have them itching to get outdoors to paddle across a lake or go wildlife watching."
~  Bangor Daily News
"Wight and illustrator Carl DiRocco have created a fun, exciting mystery that smartly blends suspense with Native American lore and fascinating natural history . . . plot twists, secret identities and the boys' fast thinking will keep readers, young and older, entertained to the last page. Cooper and Packrat are best pals, bright, brave and honest, setting good examples for wildlife stewardship and for doing what's right, no matter what."
~  Bill Bushnell, Central Maine Newspapers
"An adventurous story with fascinating eagle facts. This book is perfect for young readers who love adventure, mystery, and nature. I already look forward to the next installment.     I hope there's a next book!"
~   DEBtastic Reads blog
________________________________
Signed copies of
Mystery of The Eagle's Nest
can be ordered 
 for $16.95 plus tax, plus shipping
email tami_@_tamrawight.com (minus the underscores)
for details and be sure to specify to who you'd like it signed,
and how you'd like it sent:
Media Mail ~ Priority ~ Overnight
 We will get back to you in 48 hours.
Or , order copies of Cooper and Packrat through