A good friend of mine called a couple weeks ago.  He hadn't heard about my book sale, and after I told him, he said, "I really admire you!"
At first I was speechless. Then I babbled and stuttered some kind of thank you and I think there was a "whatever for?" in there too.
"For your determination to sell a second book," he said.  "That you never gave up."
Well.
Today, I went through every Cooper and Packrat file I had, getting ready to talk to my class about the story's journey from an idea to a published-hold-in-your-hands book.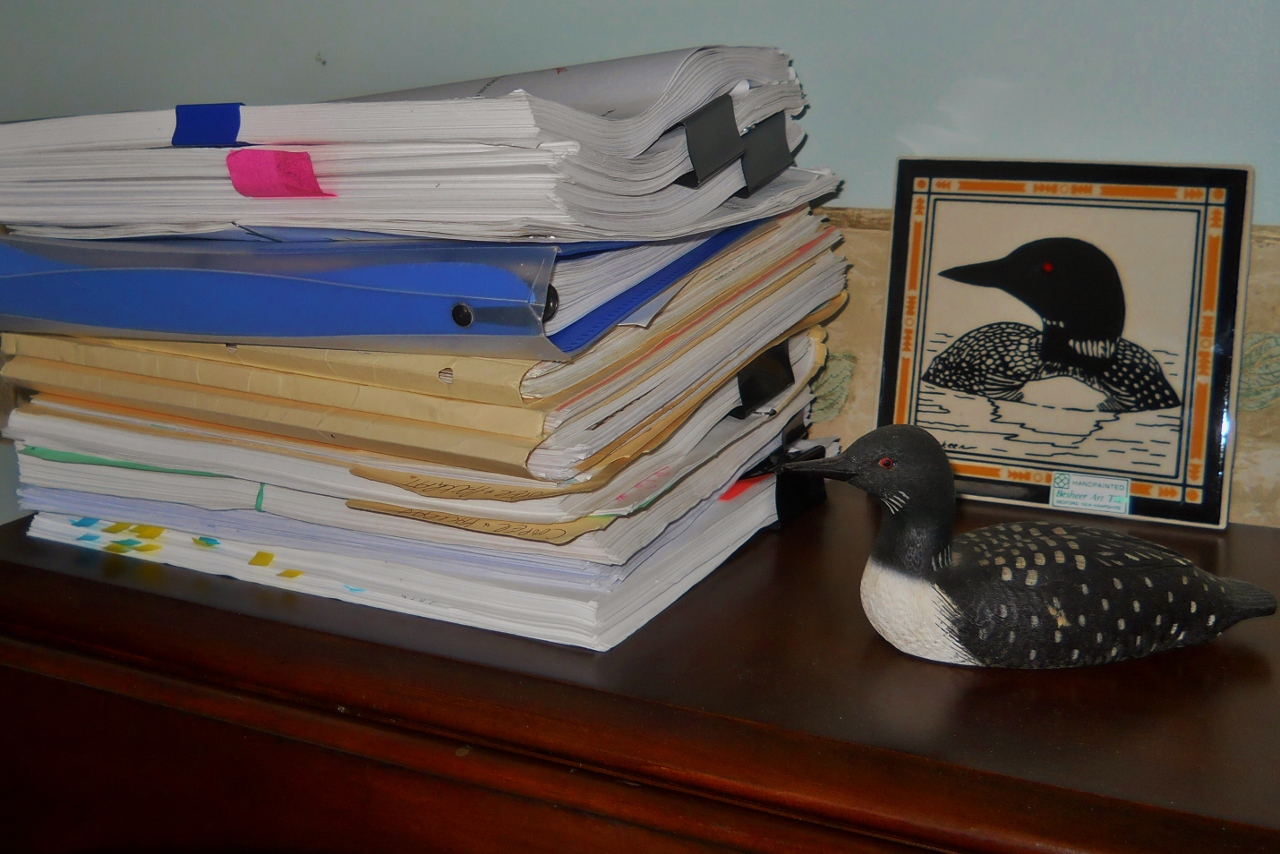 I knew it'd been years in the making.  But I was a little surprised myself, at exactly how many.
The summer of 1999, our loon nest flooded.  Both eggs lost.  I watched our loons re-nest and go on to raise two beautiful chicks.  I became totally and utterly smitten with this amazing creature.  They had flown to winter waters when I put fingers to keyboard to write the picture book;  Lily Loon.  It turned out to be an equal mix of non-fiction and fiction.  I subbed it to editors  nine times where it received so-so comments, but no takers.  One comment suggested they were turning it down because of the mix, they weren't quite sure where it fit in on the genre list.
That same winter, I wrote another picture book, Victoria's Loons. This one resembled Cooper and Packrat more. It was mostly fictional, with a little bit of loon facts thrown in.  This received very good comments so I continued to alternate subbing and tweaking it right up until 2005 or so, about 20 times total.
One of the comments suggested the story was bigger than a picture book could hold.  Simplify it or broaden it, they suggested.  I'd been trying my hand at middle grade novels, on the advice of an agent.  I'd also recently heard the phrase, 'to sell a manuscript, write what you know'.  A light bulb turned on.  "Here is my campground early chapter book!" I thought.
It was now 2006.  I wrote it.  I loved it.  But George Wilder: Game Warden in Training was never sent out.  My trusted critiquers thought it should be bigger still.  A full middle grade.  "That's your voice," one said.
So I rewrote from scratch.  I changed George to Cooper.  I gave him a mystery to solve, a bully to antagonize him, a family to drive him crazy, a campground to play in (as long as his chores were done first) and a best friend to have his back.
And I gave him a loon family to monitor
My author friends finally gave their approval to submit it to editors in 2009.  The first rejections came in;  very positive, personal notes, with ideas for improvement I could sink my teeth into. But I won't kid you, there were times when I wondered if Cooper would find a home. Heck, it'd been many years since The Three Grumpies had been released.  What if . . . but I didn't want to think like that.
I rewrote Cooper two more times until finally, just after the last revision, it found a perfect  home with Melissa Kim at the award winning Islandport Press.  As it turns out, she'd been looking for a middle grade.
It was Fate.
Yes, the journey was long.  Yes, I was determined.  And yes, I think my friend is amazingly awesome for noticing.  But I'm far from the first author to have had this experience.  The road to publication is seldom straight, smooth and perfectly routed on a GPS.  It's curvy and surprises you with forks around most every bend.  It's full of potholes. And detours. And traffic jams.  Sometimes it's a three lane highway, ending jarringly as a cart road leading to the  looming mountain in the distance.
But if I hadn't had this exact journey, route for route . . . would Cooper and Packrat still be Cooper and Packrat?
I don't think so.
So, am I glad I experienced the journey I did?
Absolutely.