Cooper and Packrat  had the distinct honor of being the book chosen for Fisher Mitchell's One Book, One School Project 2015.  Two hundred and sixty hardcover copies of Mystery of Pine Lake was distributed through the school, thanks to a generous grant from the Tabitha and Stephen King Foundation, and support from the Bath Elementary Schools PTA.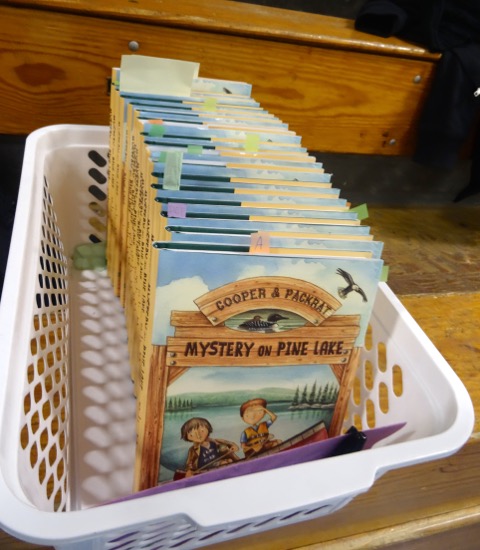 260 copies!  Whoa!
Joan Newkirk (my contact at Fisher Mitchell), and the rest of the teachers and librarians, had many wonderful activities planned to go along with the event.  Dress like a loon day, dress like your favorite character day, two breakfasts with read-alouds from the book, my two-day visit and a Pot Luck evening event, just to name a few.
And look at this bulletin board!
I was very disappointed when after waiting months, my first day to visit was snowed out – but the second day was still a go!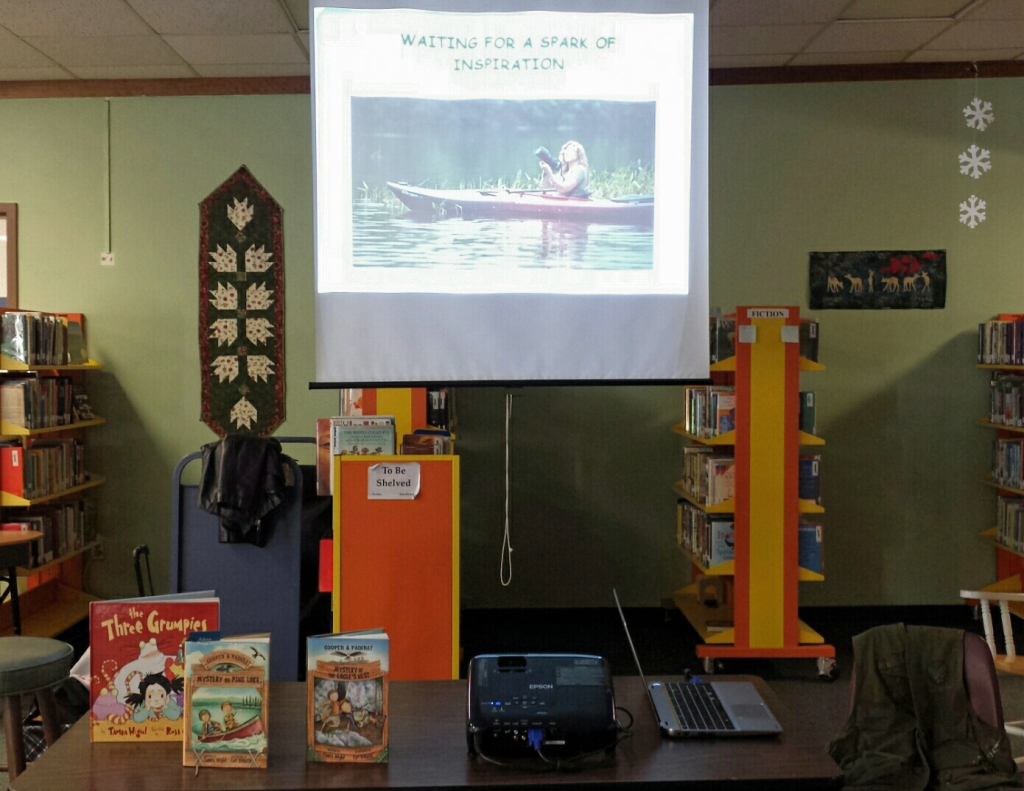 When I arrived, I was given a fabulous space in the library and told to "make it my own for the day".  Heaven!
As I waited patiently for students to arrive, several students and teachers poked their heads in the library to ask, "Are you Tamra Wight?" When I said yes, they'd grin and continue on their way.  A few brought their books in to have me sign.
There were four sessions in all, spanning grades 3 and 4. We talked about ideas, the inspiration behind Cooper and Packrat, and how my photography is my way of researching and documenting wildlife notes.  But mostly we talked about descriptive language and how important it is.
The students had wonderful comments, connections and questions.  One young lady, when asked where ideas come from, responded, "Your heart."
She stole mine, with that answer.
Next Thursday, I'll return to meet the fifth graders.  The snow better stay away!
We managed to squeeze in the Pot Luck Dinner and Author Presentation that same evening before the big Friday storm. Rather than go home between the classroom presentations and the Pot Luck, Cindy Lord and Mona Pease agreed to meet me for latte's and chai at Cafe Creme.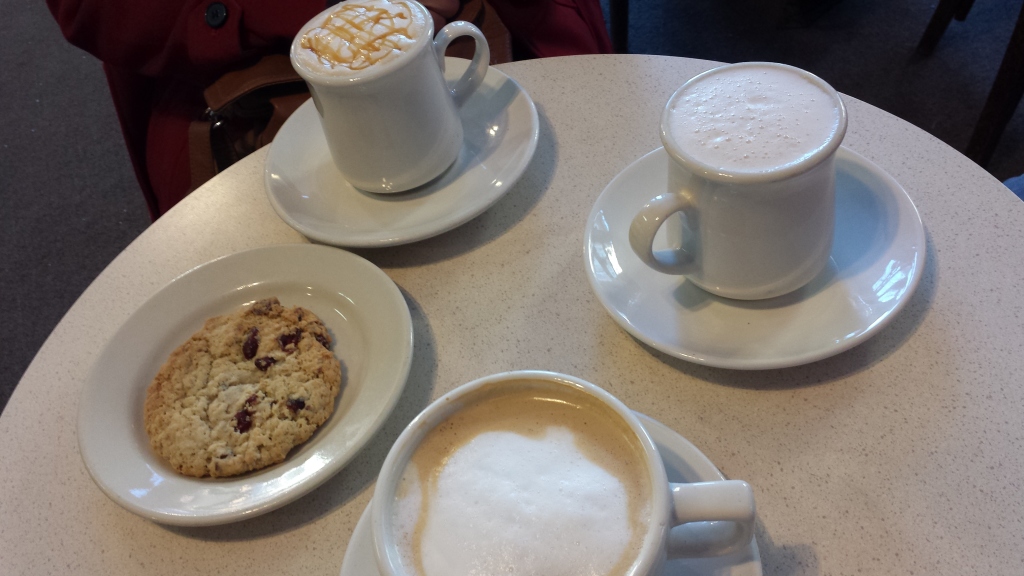 The drinks were warm, and the conversation light.  I just love these two ladies and their readiness to keep me company, in spite of my last minute wanna-meet-up, shout out . Not only did they brave the cold to come see me, they returned to the school to watch my little presentation and take a few photos of it.
The line for the pot luck was long!  So many wonderful families came!  One young man told me it was "an amazing turn out. You never know how these things will go."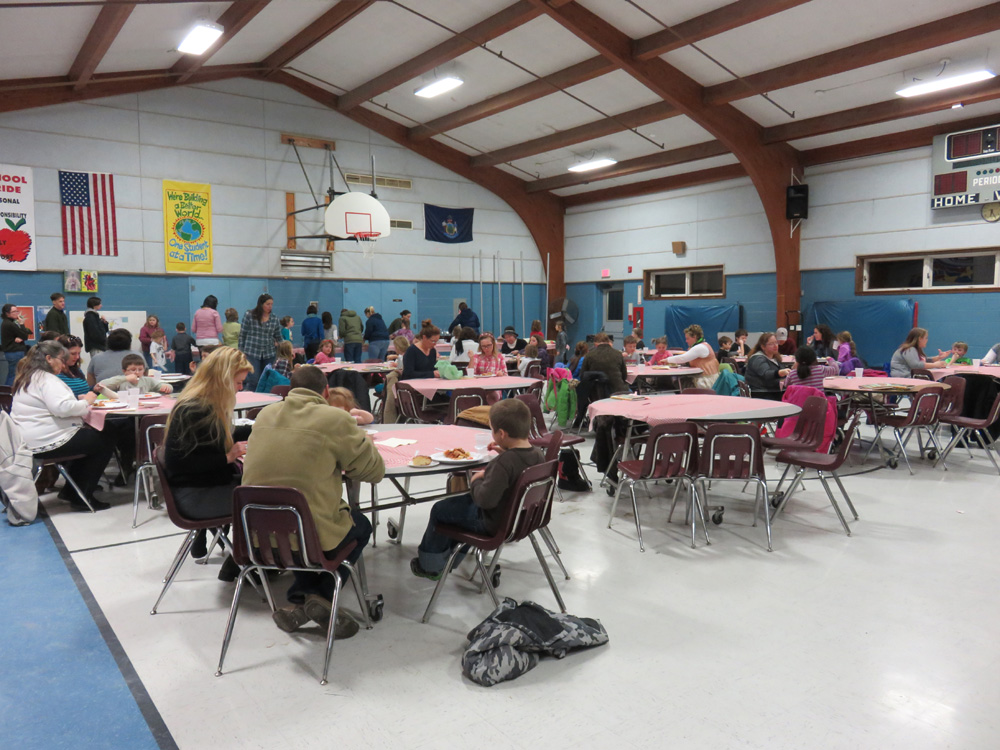 While everyone ate, it was time for me to read from Cooper and Packrat.  Since many of the students had already begun the book, I chose Chapter 10:  a chapter about meeting and greeting around the campfire, old friends and new, coming together.  It felt appropriate, considering the meeting and greeting that was happening at the Pot Luck.
My favorite part, of course, was talking to parents, teachers, PTA members and of course the students themselves.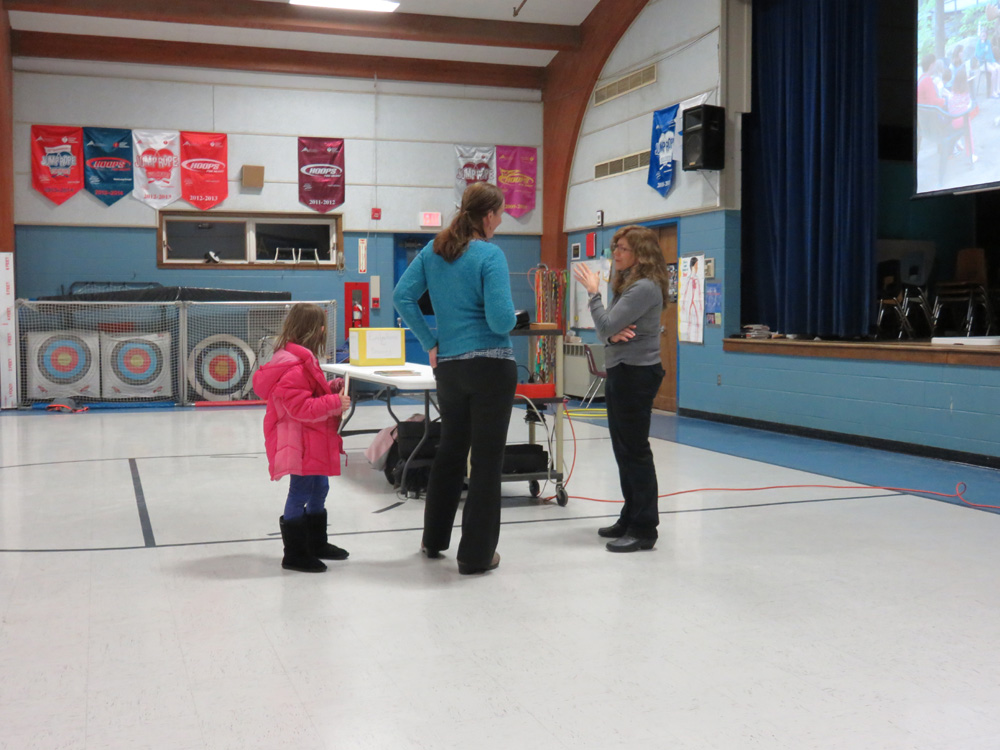 I signed many books, and I will get the rest next Thursday for sure.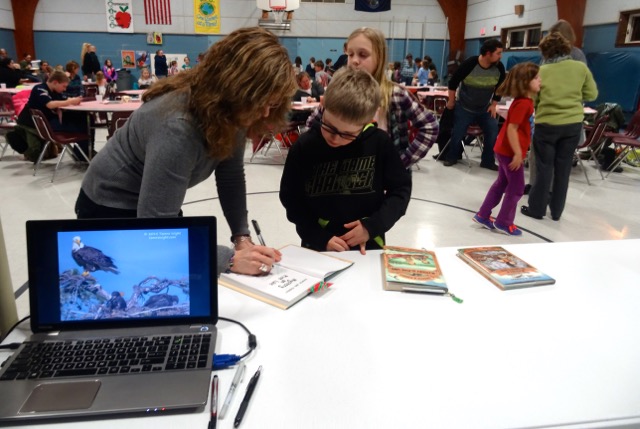 Some students snuck a peek at Mystery of the Eagle's Nest, while they had a chance.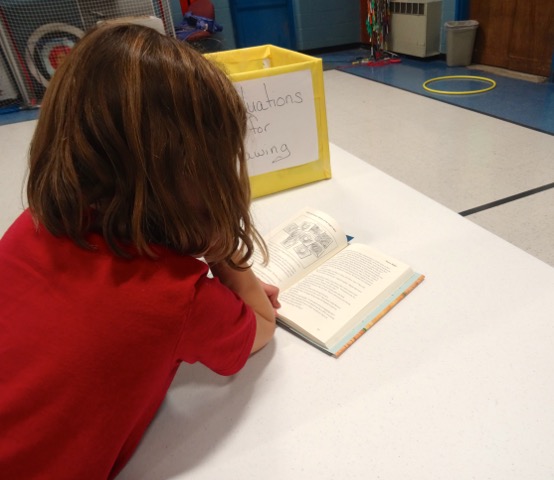 This young lady, had a hard time giving it back to me.  She left happy though, when I told her the library had gained an extra copy for loaning that day.
And the frosting on the cake, in an already amazing day, was having this cool cake presented for desert.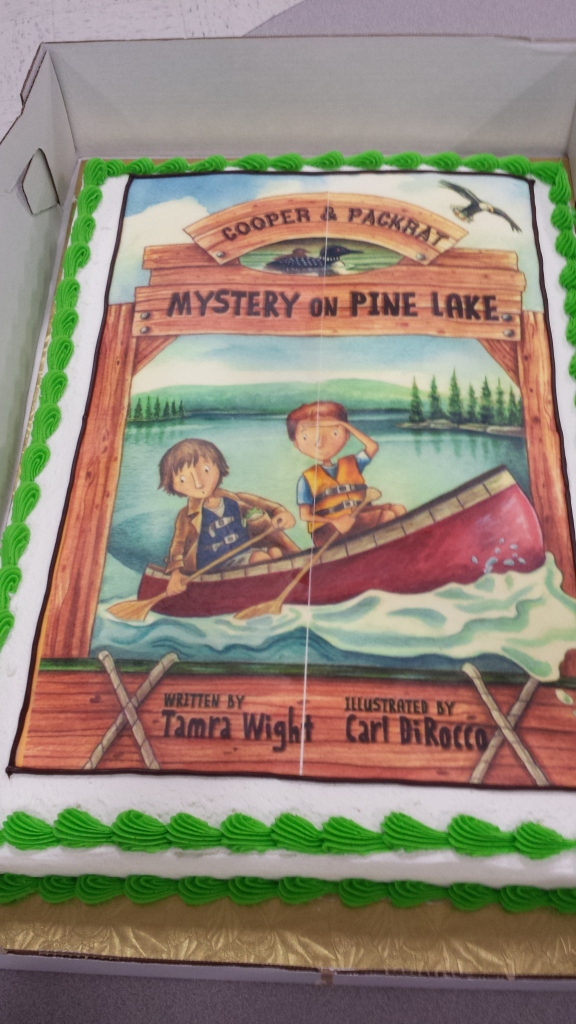 None of the students would allow the servers to cut into Cooper and Packrat's faces . . . so one Mom took Cooper home, and I took Packrat.
So glad those two are well loved!