One day last week, as we drove between Middle and Lower Range Pond just minutes from home, my husband pointed out the passenger side window, "There's the eagle."
That's all it took.  We'd been gone for two days to a family function, had just spent four hours in the car, but I had my boots on in seconds.
It was a gray day.  The snapping coldness of the air across the ice had the fog crawling in too. Still I lugged my camera, because, well, you just never know . . .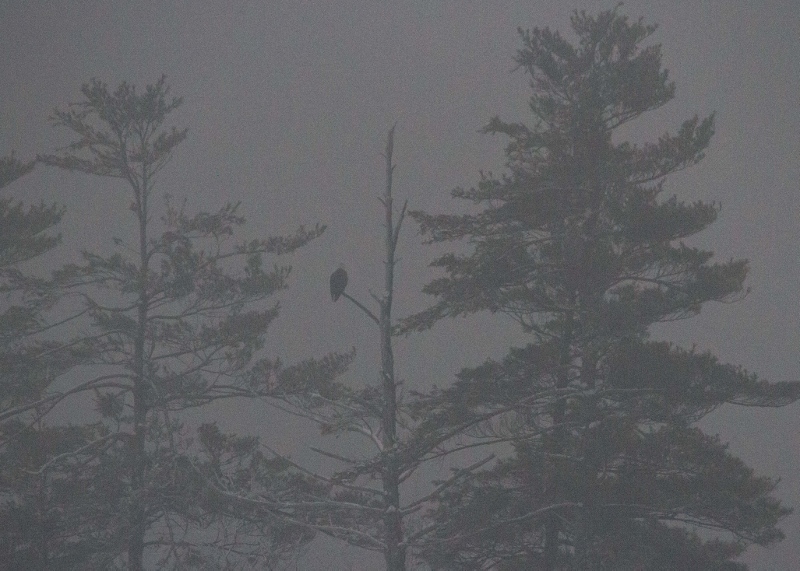 This was all I could see of my eagle. Even with my long lens.  But it was enough to know he was there.  And nearby. And hopefully thinking about nesting here again this year.
As I looked out over the frozen lake, I heard one sharp crack.  Then another.  I thought at first it was the ice moving, shifting.
After hearing it a couple more times, I walked toward the sound.
It wasn't the ice at all.  It was this guy . . .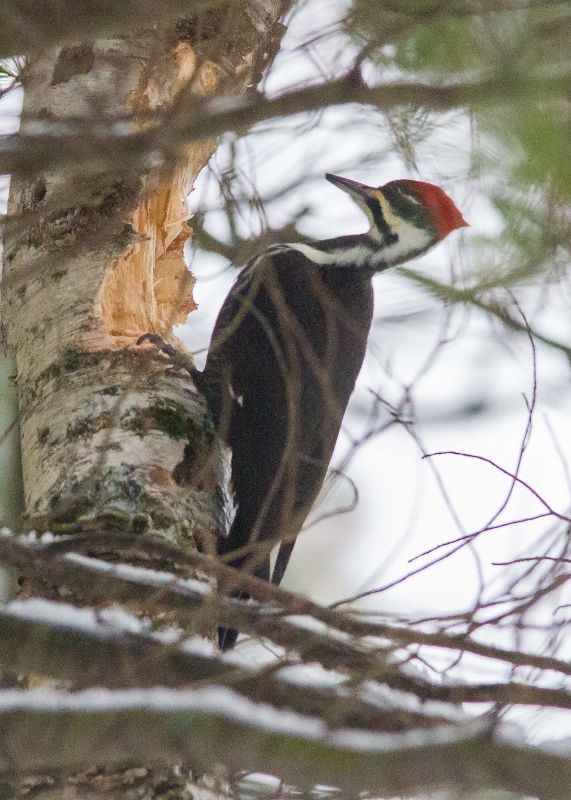 Normally, Pileated Woodpeckers are very skittish.  I've never been able to get close enough for a good photo, and if I had, they'd move around to the other side of the tree.  This day though, it didn't pay me any mind at all even though I crunched loudly in the icy snow with every step I took, working my way closer and closer still.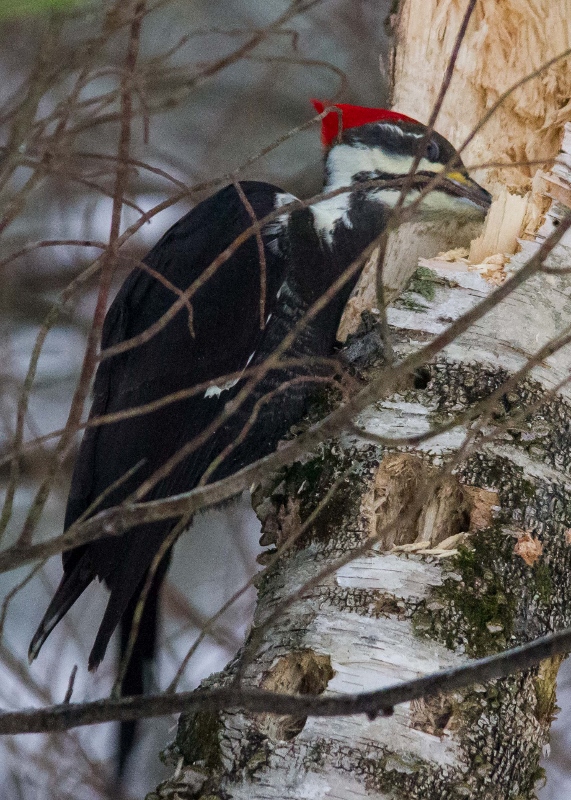 I think perhaps she knew we had the ice storm and two snowstorms on the way.  Filling her belly with carpenter ants was more important than some wildlife stalker on the ground.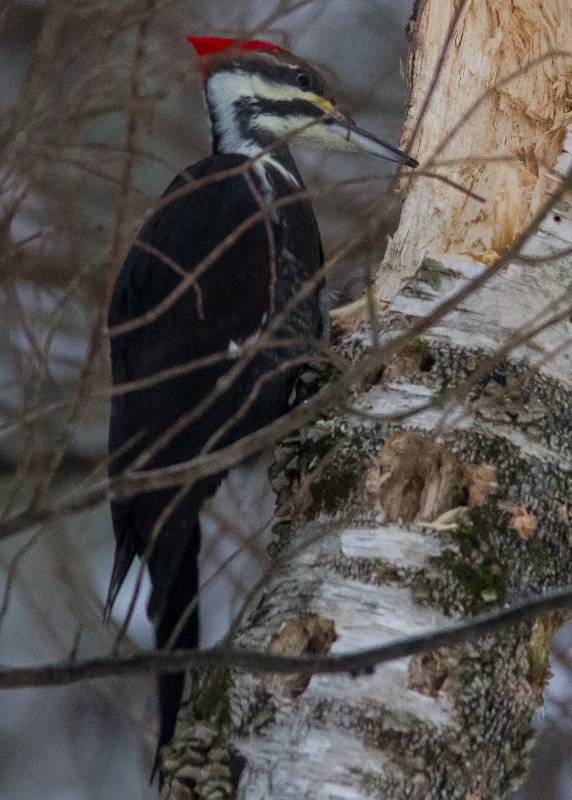 This is a female Pileated Woodpecker, because she has the yellow stripe before her beak.  Males have a bright red stripe, like their crest.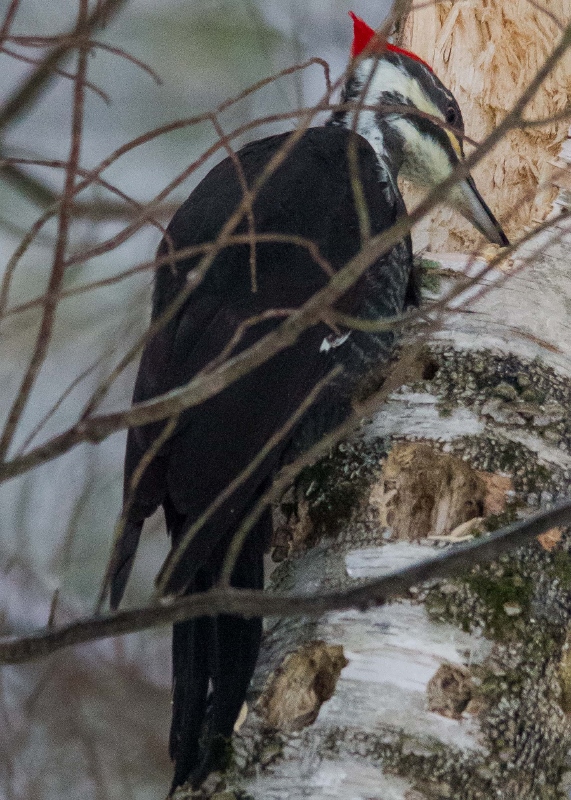 Look at the work she's done to this tree!  The holes they make later become a nesting spot for other birds like Pine Martens, owls or bats.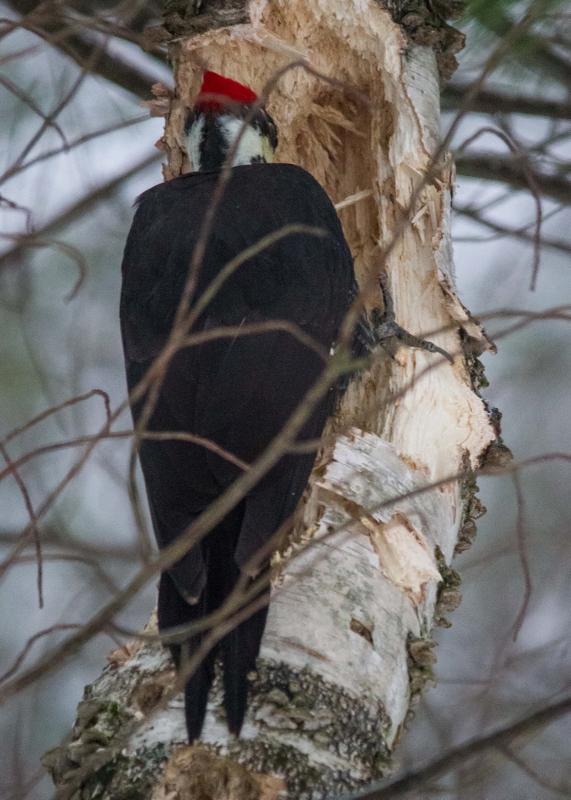 I watched for quite awhile, until a group of cross country skiers came down the lake.  Why they spooked her and I didn't, I don't know.
But I have a sneaky suspicion this Pileated Woodpecker will find it's way into Cooper's third adventure.