In my last blog post, I'd visited the loon family on July 16th when the chick was only 5 days old. There wasn't a morning after that, I didn't think about kayaking out again. But the campground duties keep me pretty busy, especially the weekends!   Lucky for me, my campers kept me up to date. Kids fishing from the shoreline and docks, reported seeing the eagle fly overhead, and the adult loons crying out.  Kayakers, returning their rental keys, told stories of watching the loons feeding their chick.
I knew the loon family was doing well.
The next time I was able to sneak out, was July 20th. I spent over an hour documenting the chick and felt really good about the photos I'd taken. When I got home however, and tried to look at the images, the thing all photographers fear had happened.
My memory card was corrupted. All the photos were lost.
I whined and fussed and whined some more, before giving myself a kick in the pants. My author-friend, Cynthia Lord had made a sunrise kayaking date with me for the morning of July 23rd. I could get more photos then. It was only three days later, how much could the chick have changed?
As Cindy and I paddled out, we found the loon family in their usual early morning breakfast nook.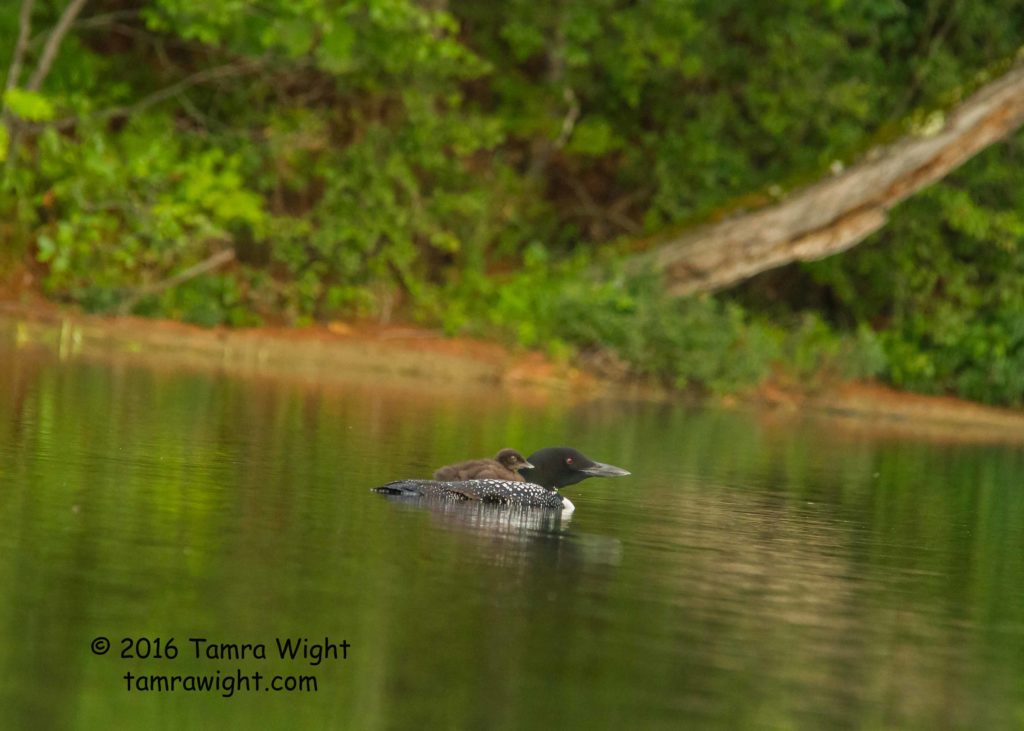 They were a beautiful sight!
And yes, the chick had grown, and even changed color a tiny bit in those three days!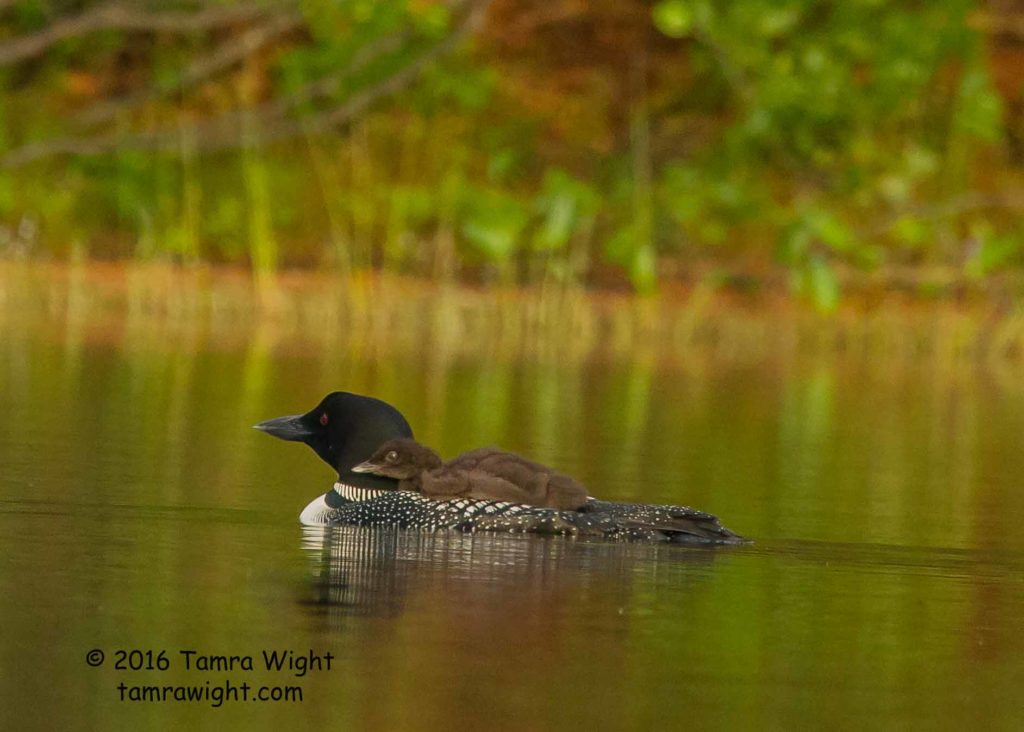 It was more active too,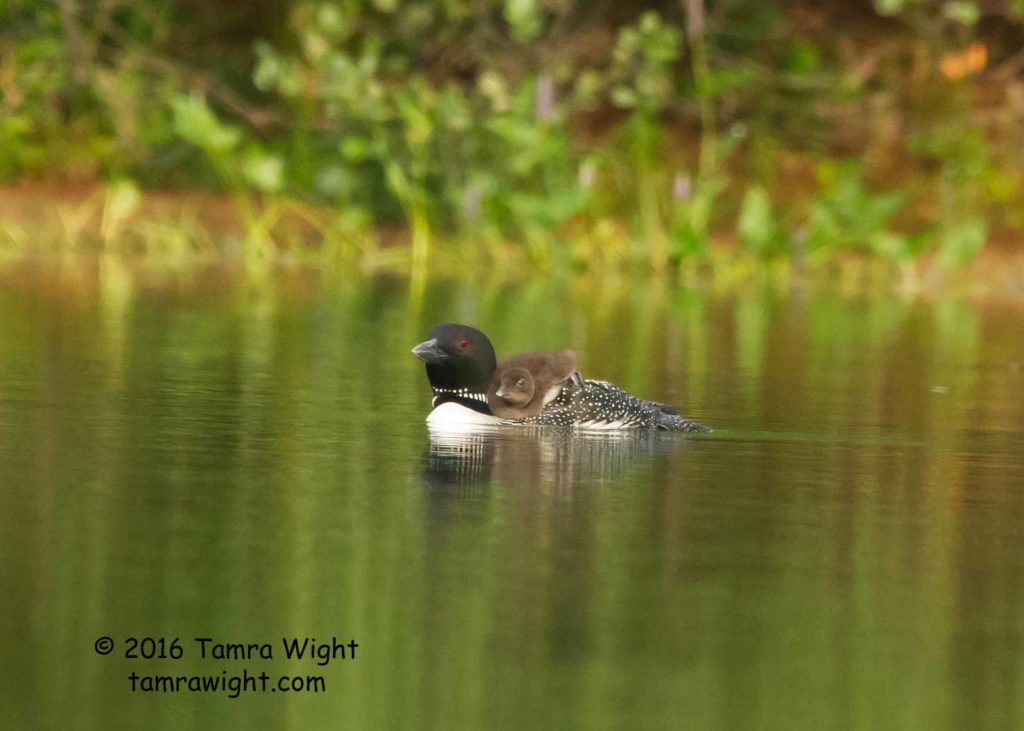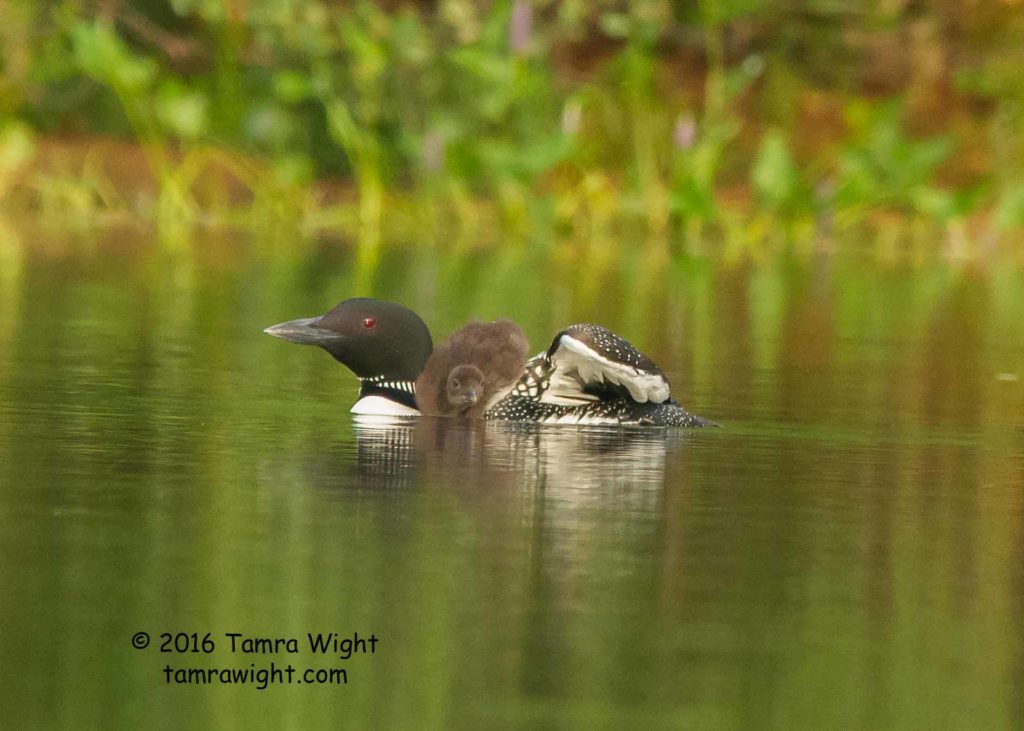 crawling up and over the adult like it was playground equipment . . .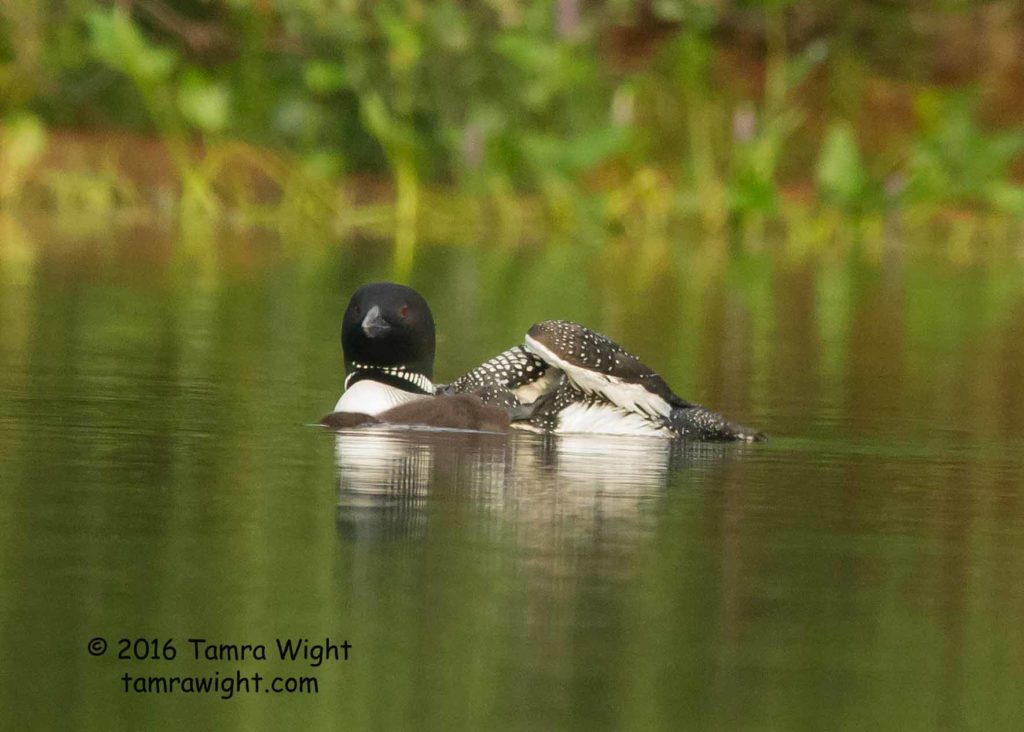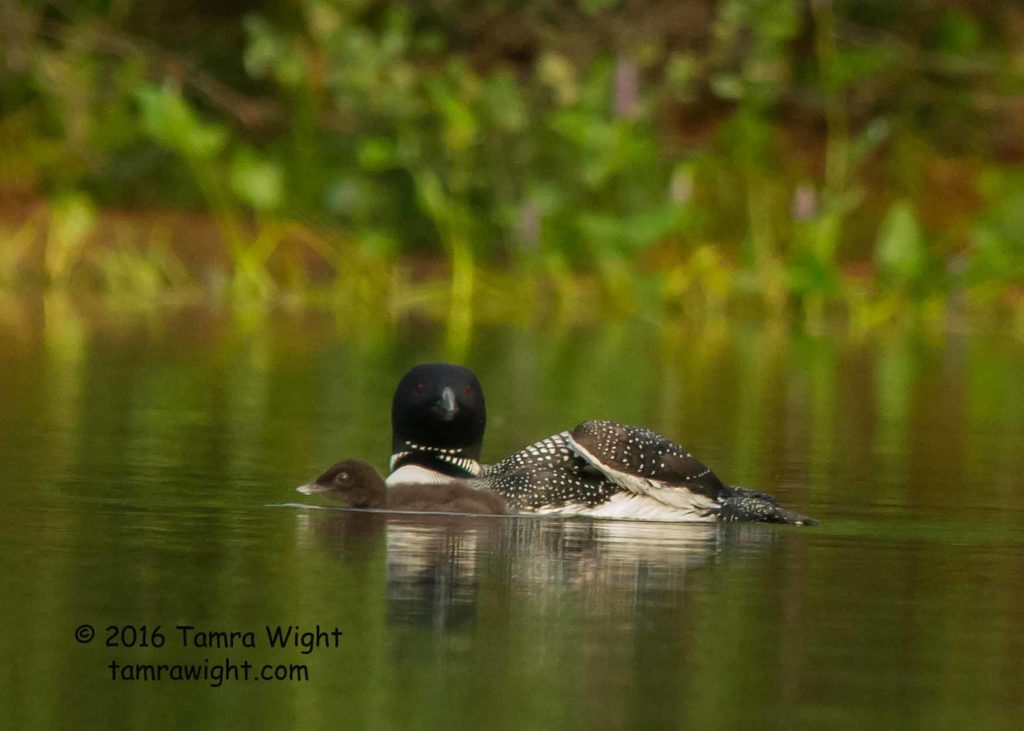 It's no wonder the adult had to stretch its wings every now and again.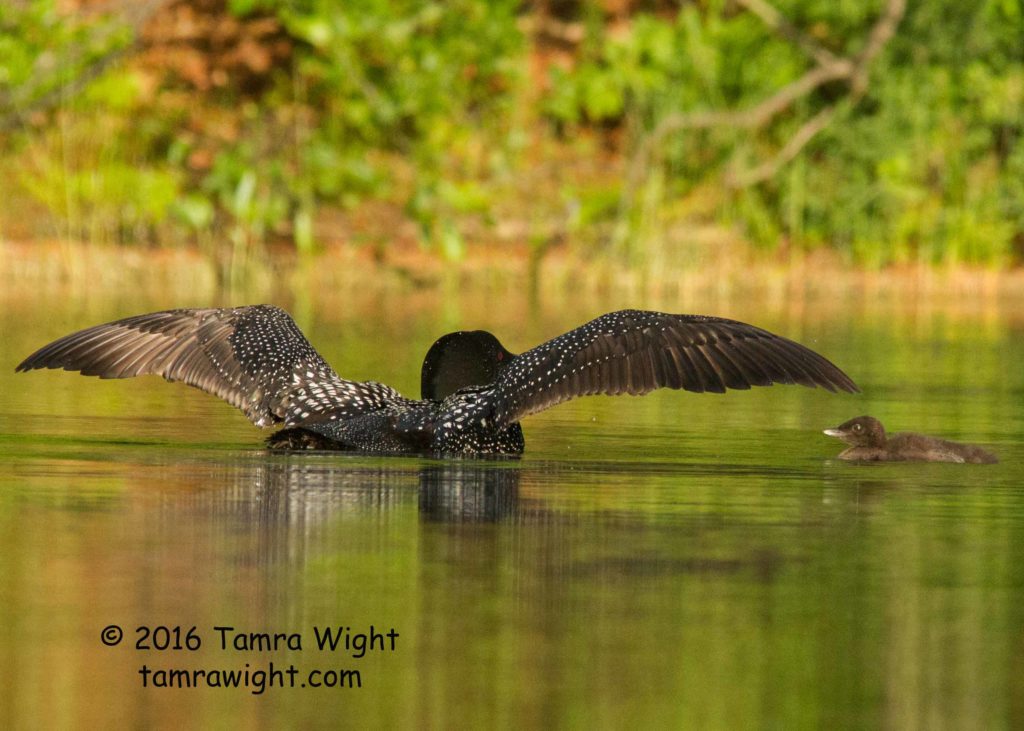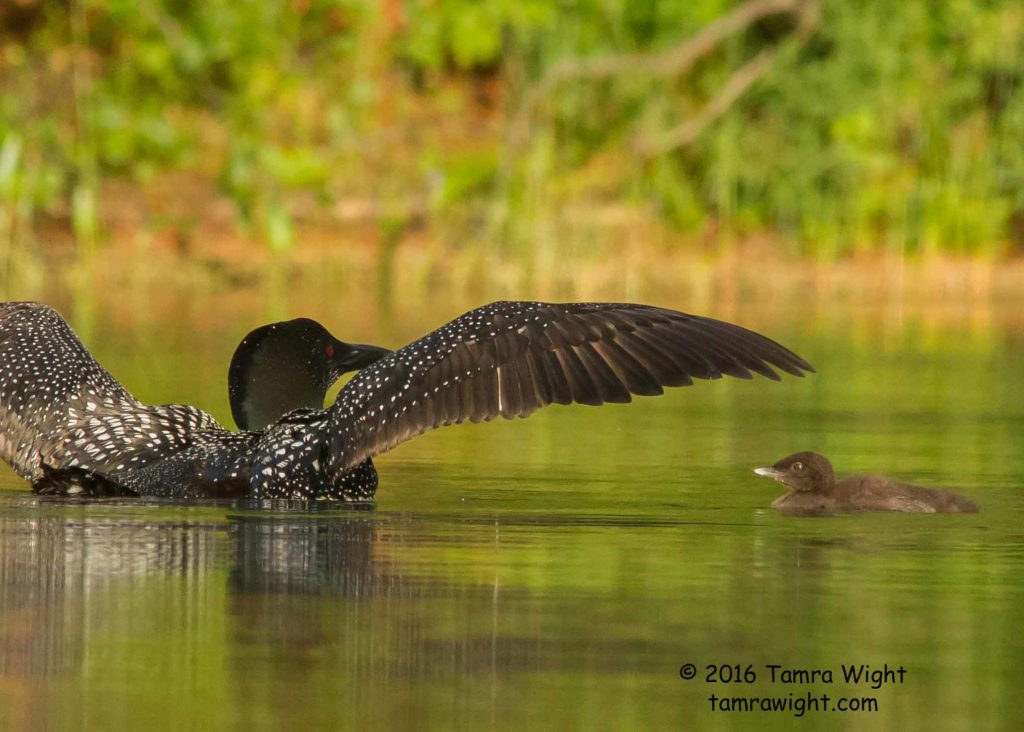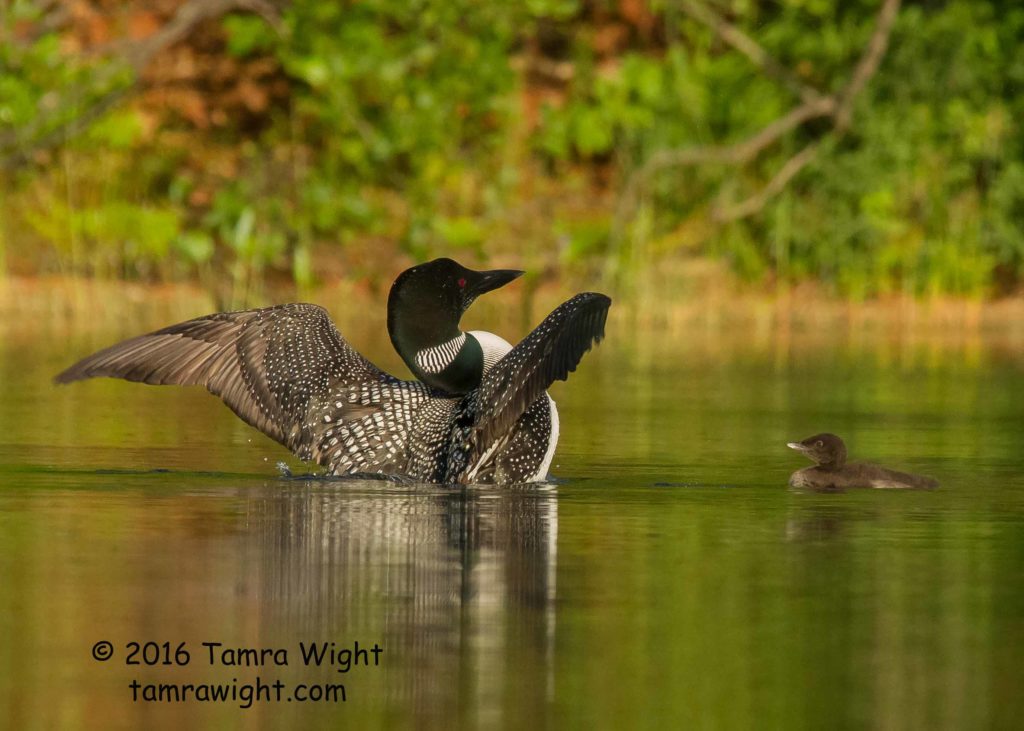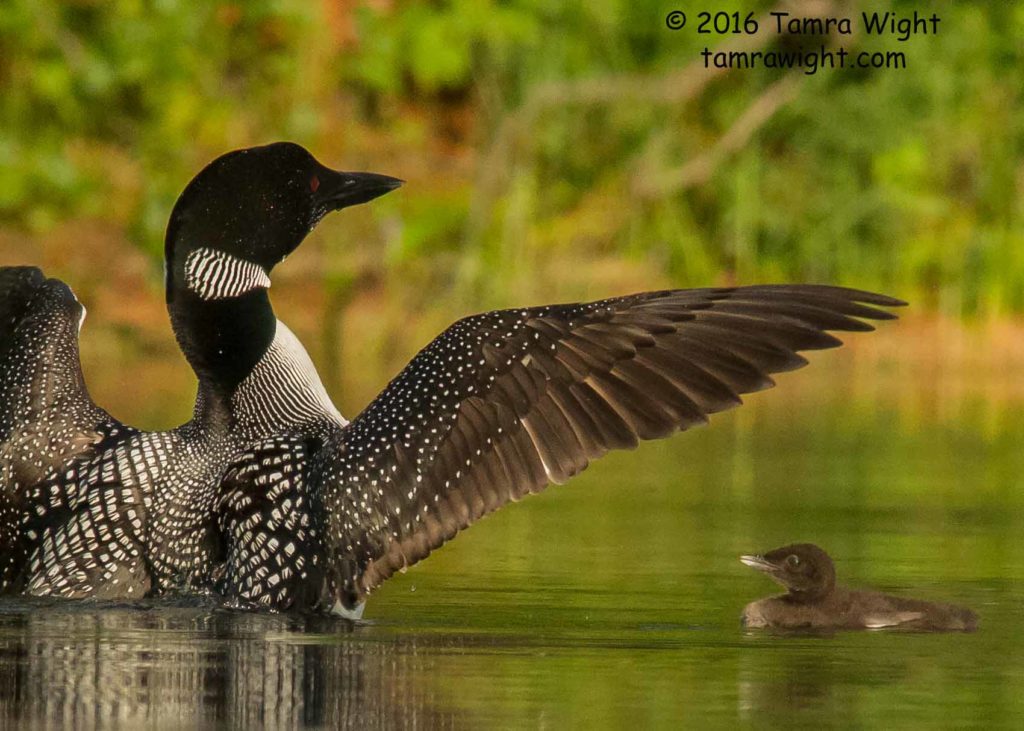 It must be hard, giving piggy-backs all the time.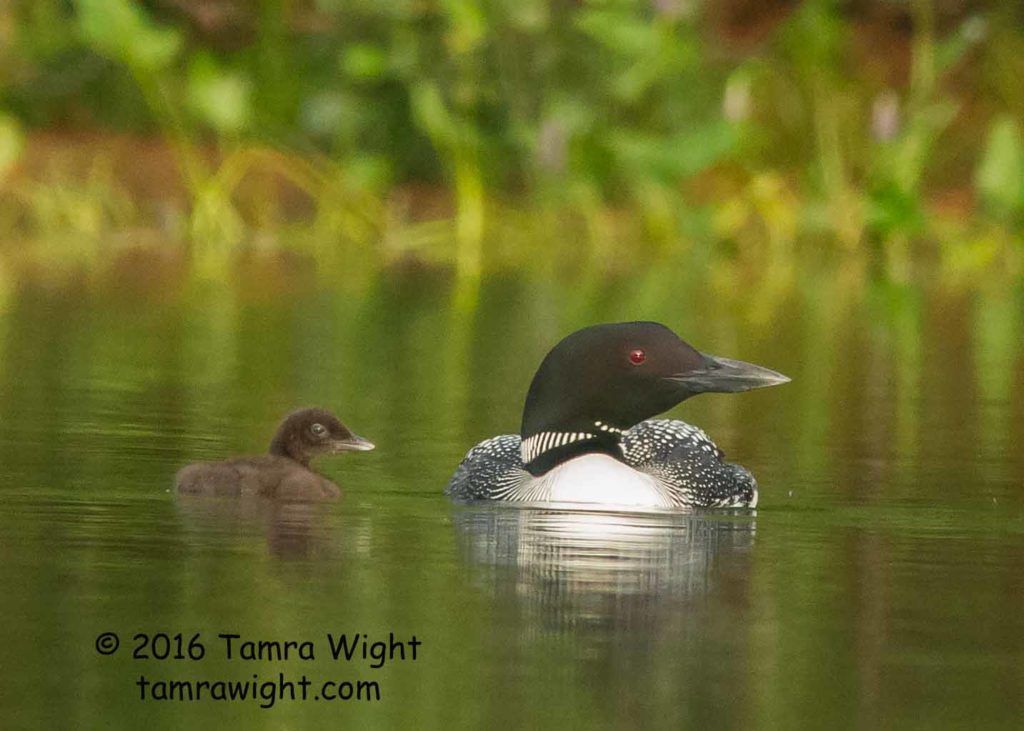 The chick began pulling at the adult's feathers, one at a time.  In this chick's short life, I'd seen it do this a couple times. Each time it had, the adult would begin looking under the surface of the water for minnows.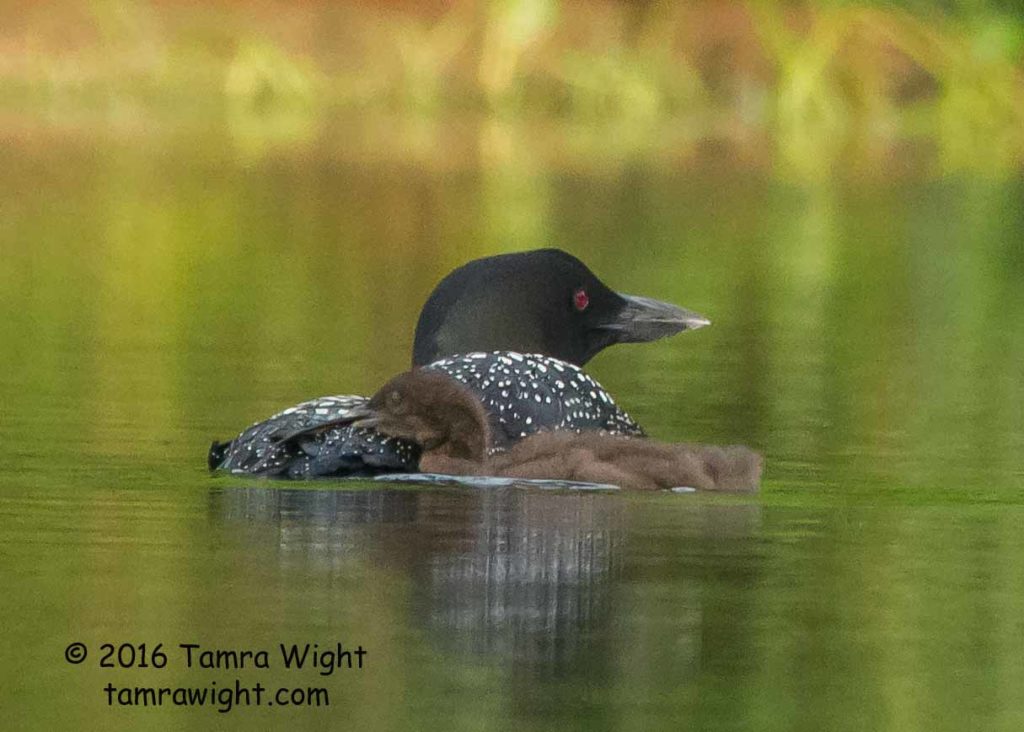 So when the adult dove under water and didn't pop right back up, we didn't worry too much. "It's hunting for breakfast," I told Cindy.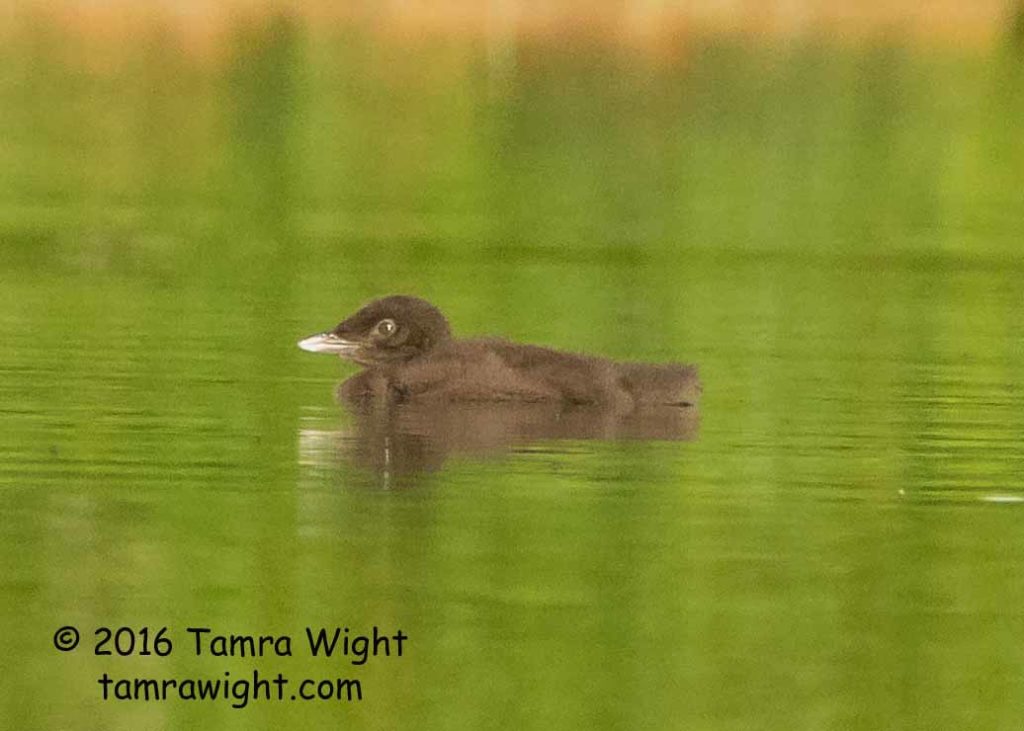 The chick moved a little closer to the shoreline, and there it stayed. One minute turned into five. Five turned into eight.
Where were the adults?
Two more minutes went by and Cindy and I were quite concerned. We paddled in circles, looking all over the lake. Where did the parents go? How could they leave the chick alone with the eaglets only a short flight away and snapping turtles lurking under the surface of the water?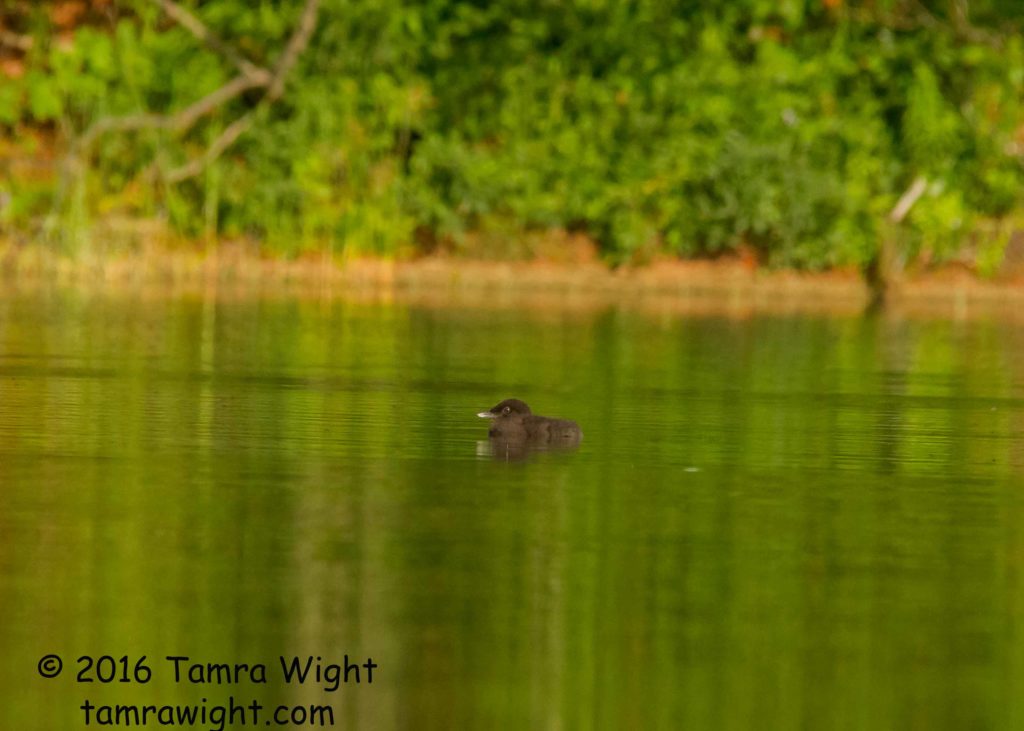 I raised my long lens and used it like binoculars. Cindy joked about being left to babysit without instructions.
And then I spied them . . .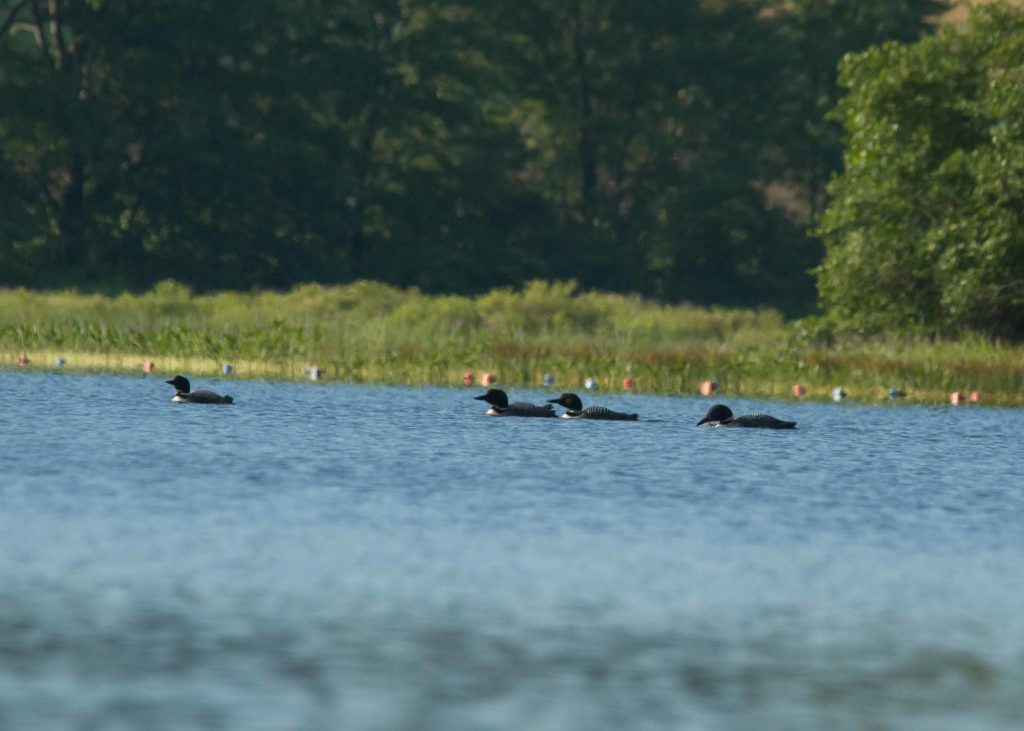 The adult pair were meeting and greeting another couple of loons . . . quite a distance away!  They dove and bobbed heads. They circled. And from what we could see, there was no drama, like the last time I'd witnessed an adult loon in their territory. There was no  yelling or fighting. This looked like . .. socializing! Early rafting!
By now the loon chick was hanging out by a neighboring dock, and it seemed to be keeping its parents in sight. What struck me though, was how the chick stayed put. It didn't wander more than a few feet. Didn't dive. Didn't try to join the adults. How did it know?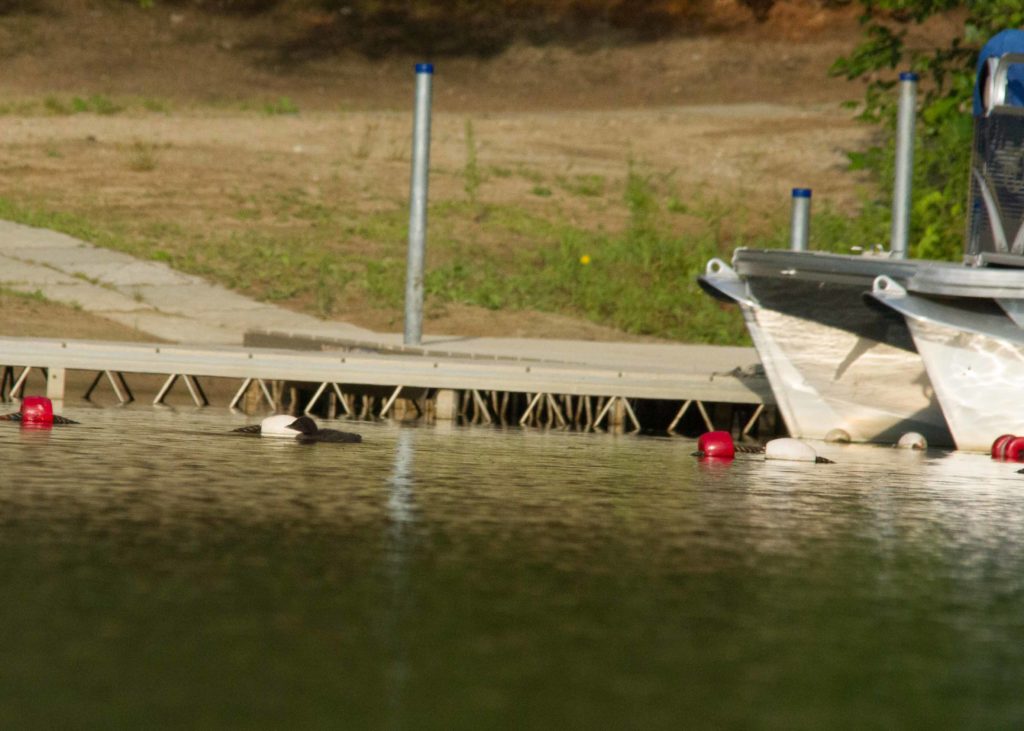 The adult loons traveled together for a bit, and still the chick stayed. Cindy and I got a teeny bit closer to it. Just in case. We weren't quite sure how we could save it, should danger approach. But it made us feel better just the same.
Eventually, the other pair of loons took flight, and the adults headed our way. When they were close, they hooted softly to their little one. Then, only then, did it leave its protected spot.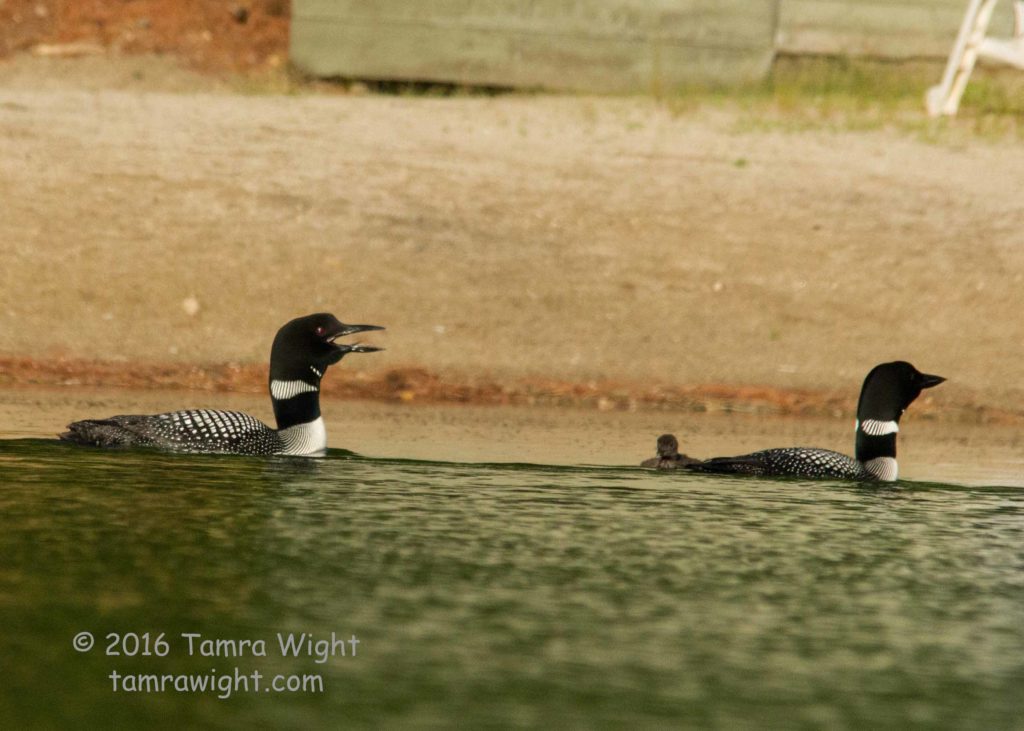 As they swam away, one of the adults called out several times. Cindy and I thought it meant, We got it from here! Thanks!

Exactly a week later, I was able to paddle out again. In 26 years of living on Lower Range Pond, I don't think I've ever gone out at 6:30am as often as I did last summer!  I have a new appreciation for that time of day . . . listening and watching the lake wake up.  All the colors are softer. Birds sing a chorus that starts quietly, and the higher the sun rises, the louder their song becomes. I'd hear a rooster crow across the lake. Then a screen door would slam on the other side.  Birds bathed at the lake's edges, from eagles to the littlest sparrow. Beavers slowly swam for their dens, as Kingfishers snatched breakfast from the lake's surface.
It quickly became my favorite time of day.
And finding the loons each time, made it even more wonderful.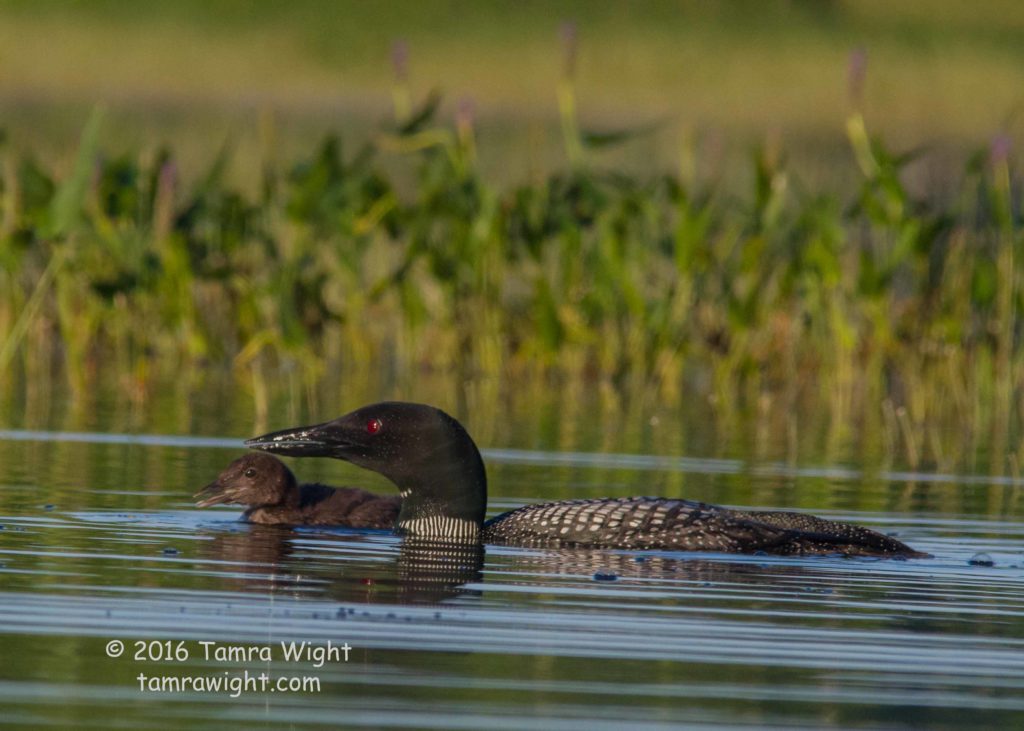 And now, only a week later, the chick seemed to have grown larger yet again.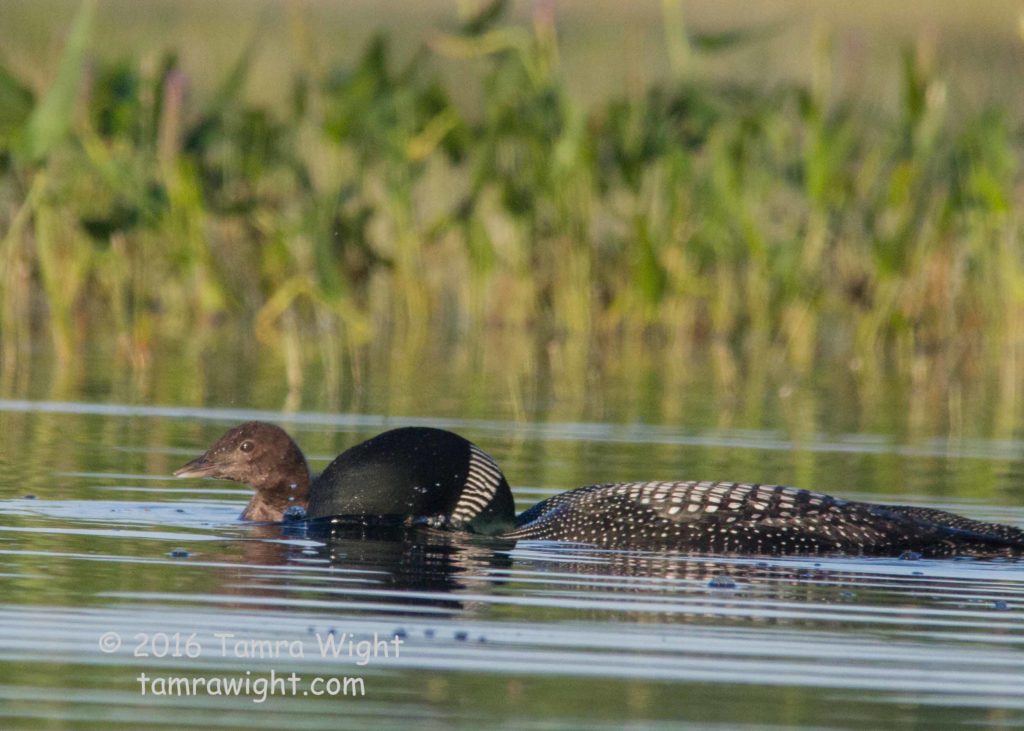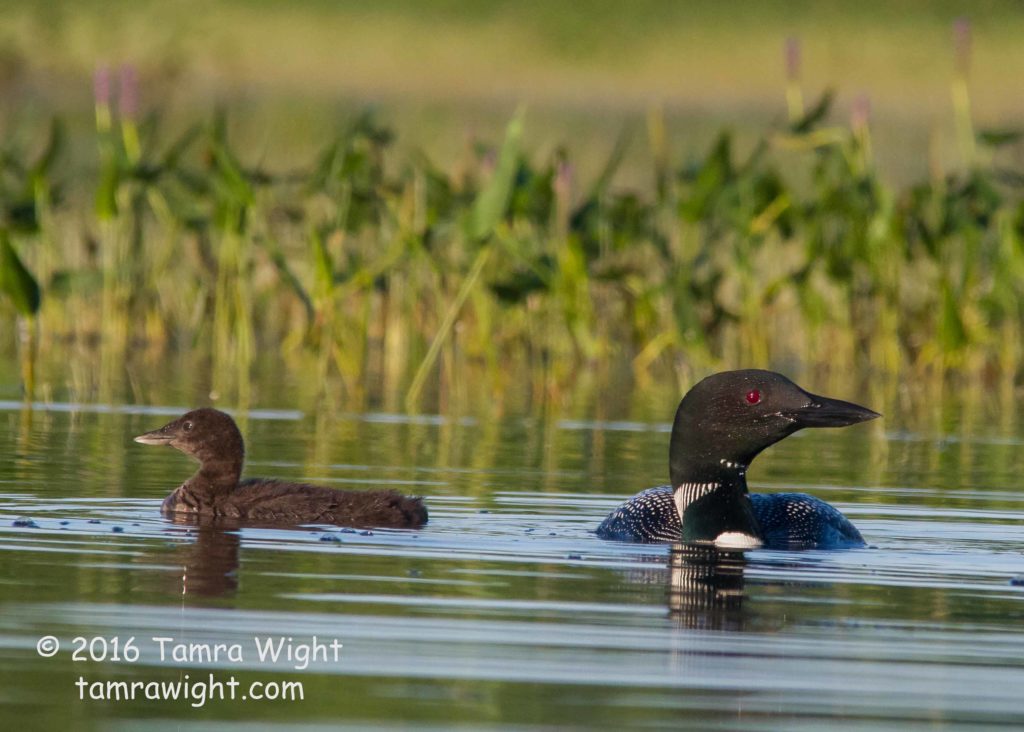 One of my favorite parts of watching the chick grow, was seeing it follow in its parents footsteps . . . so to speak.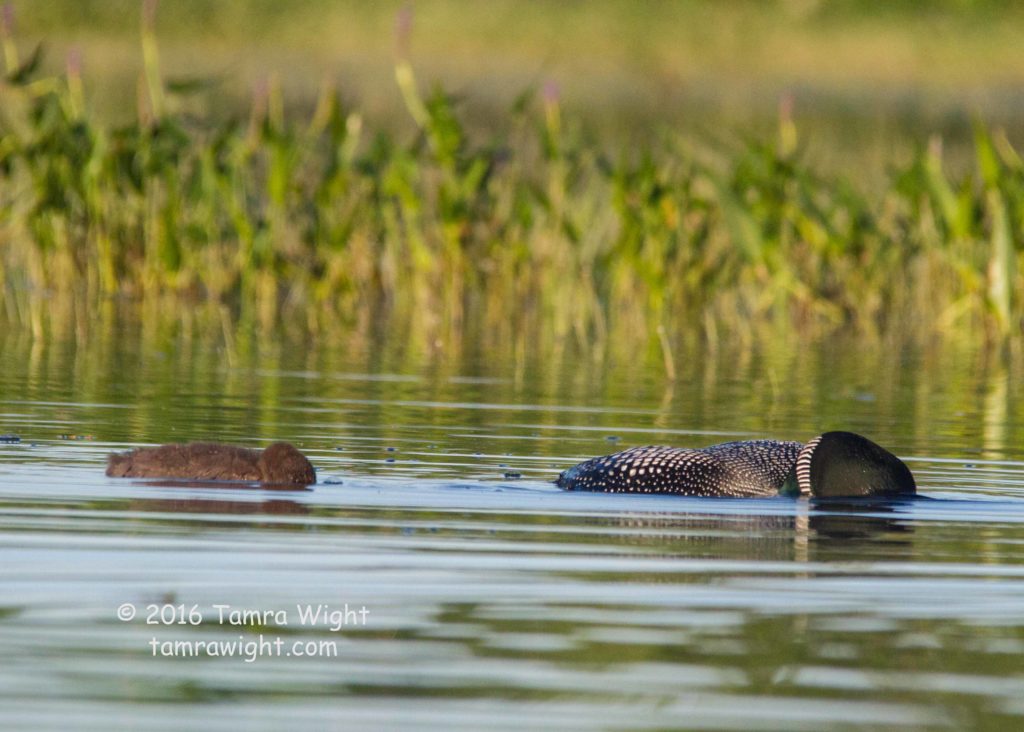 Even its stretches were adult-like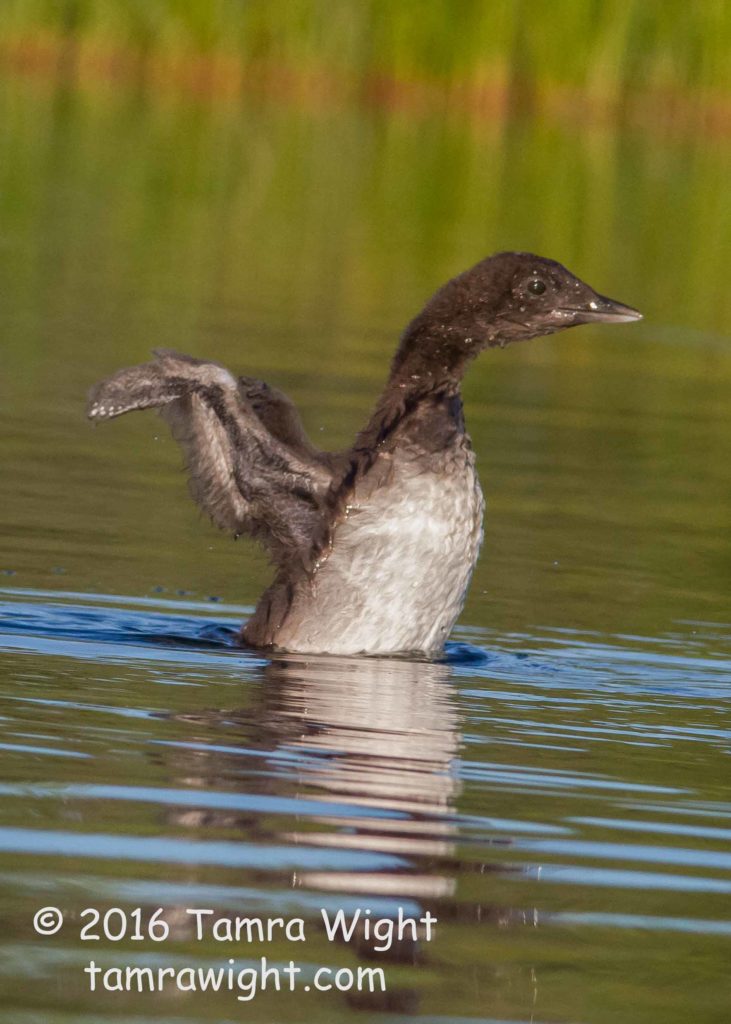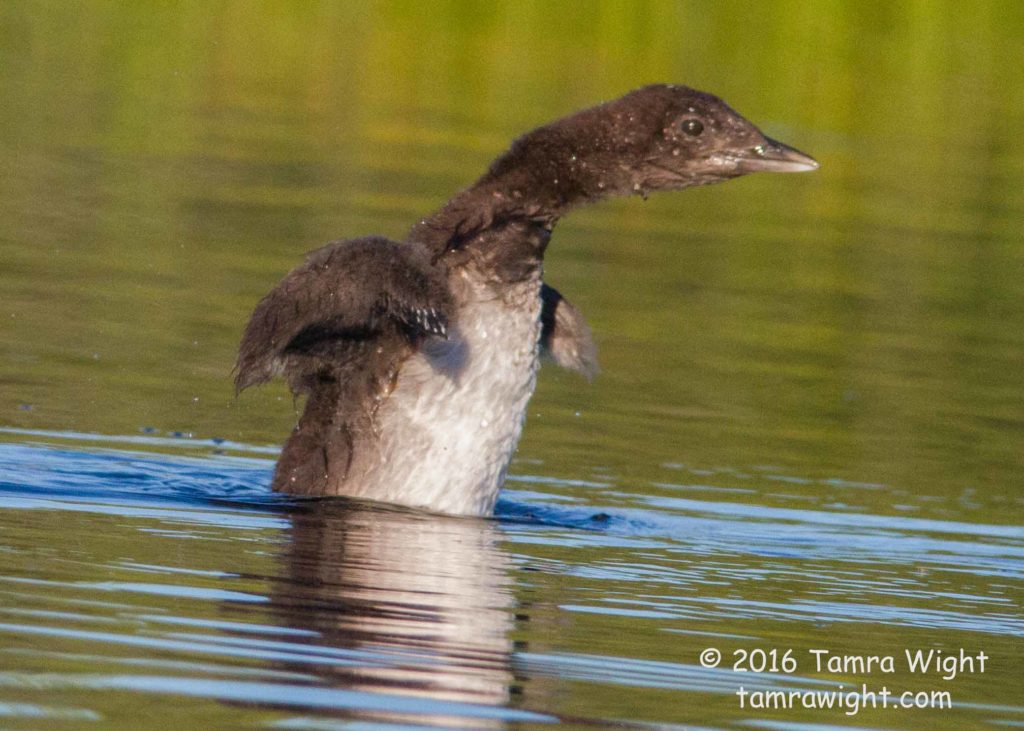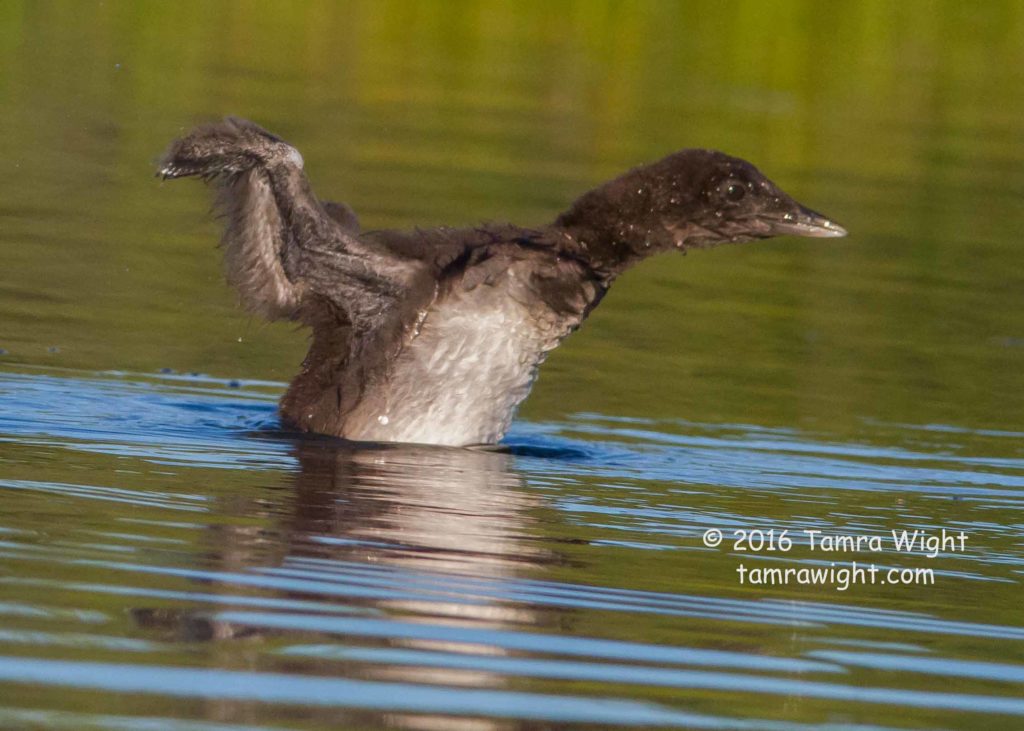 I was amused to see the chick still pulled at its mother's feathers when it was hungry . . .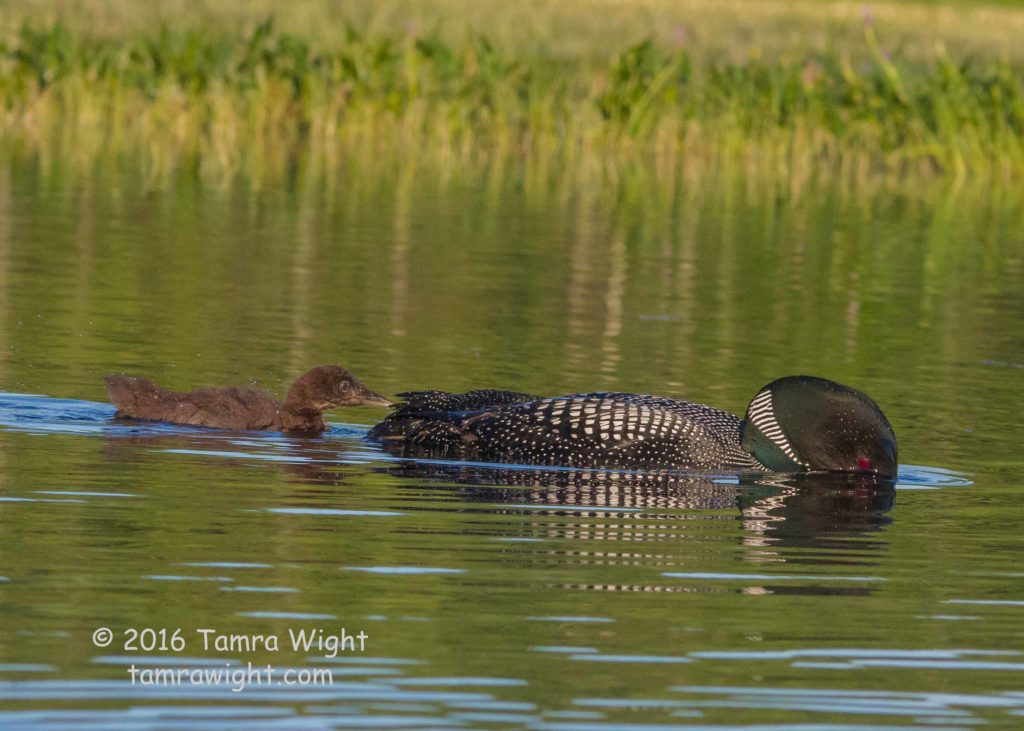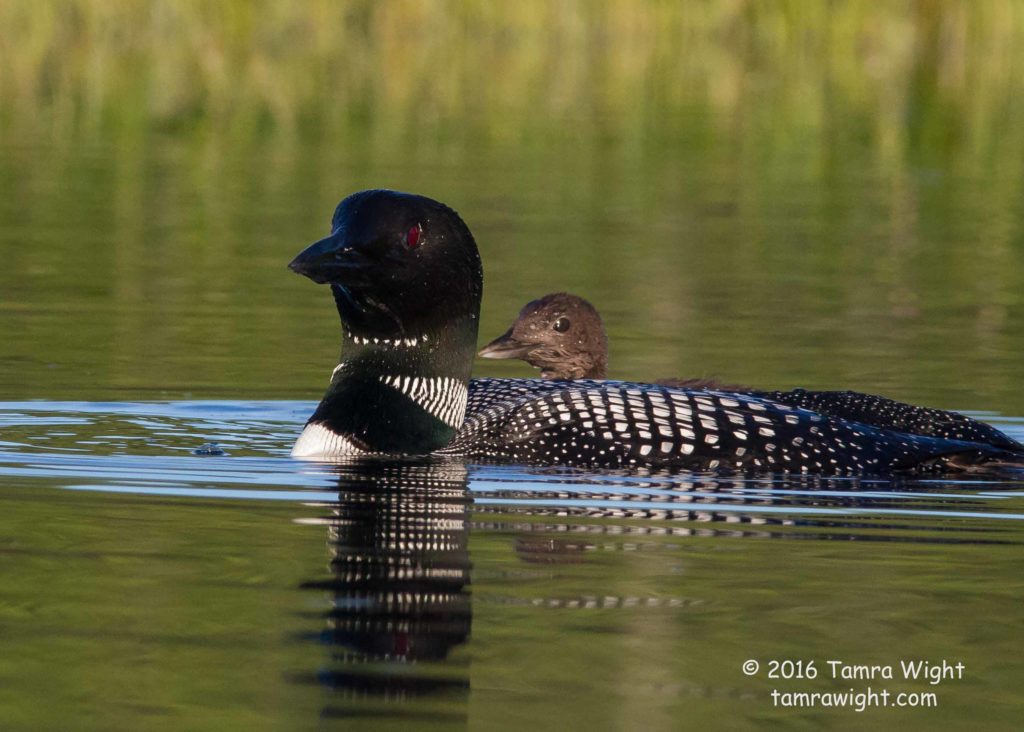 When she dove this time though, she came back with something a little bigger than a minnow!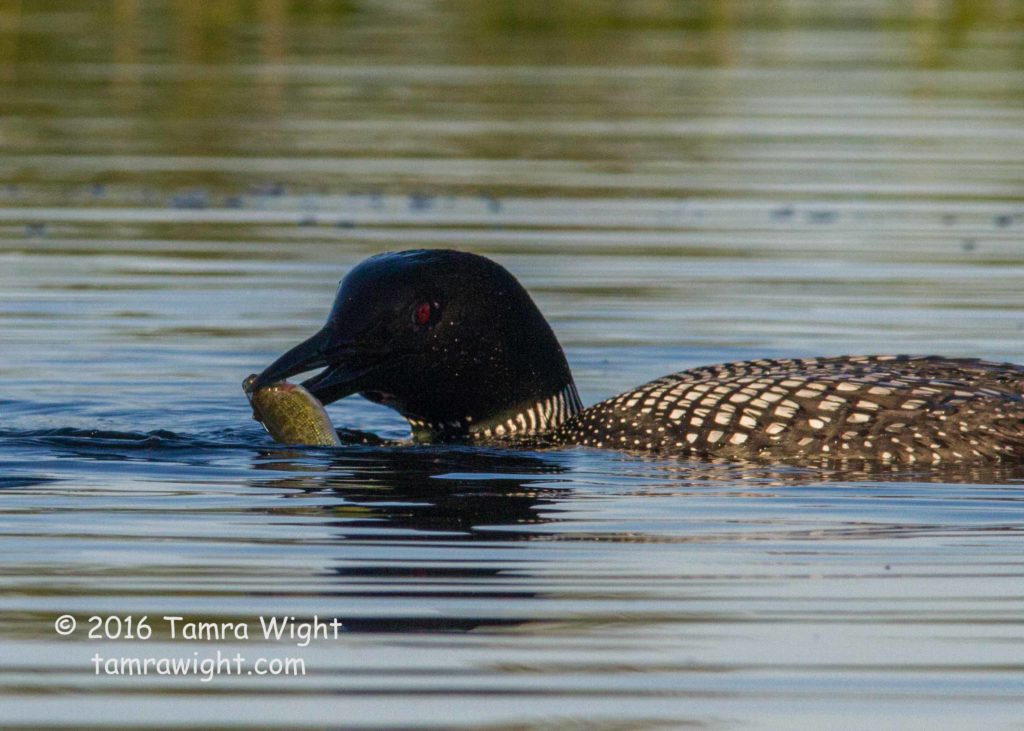 The adult dunked it, and dunked it, so the chick would get interested.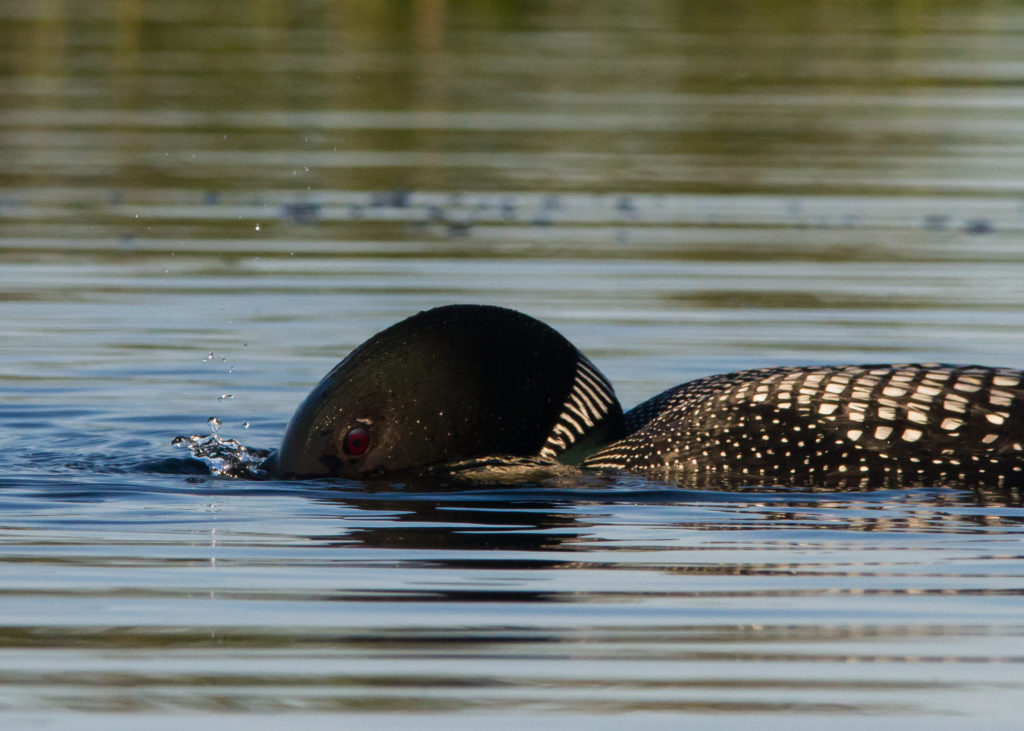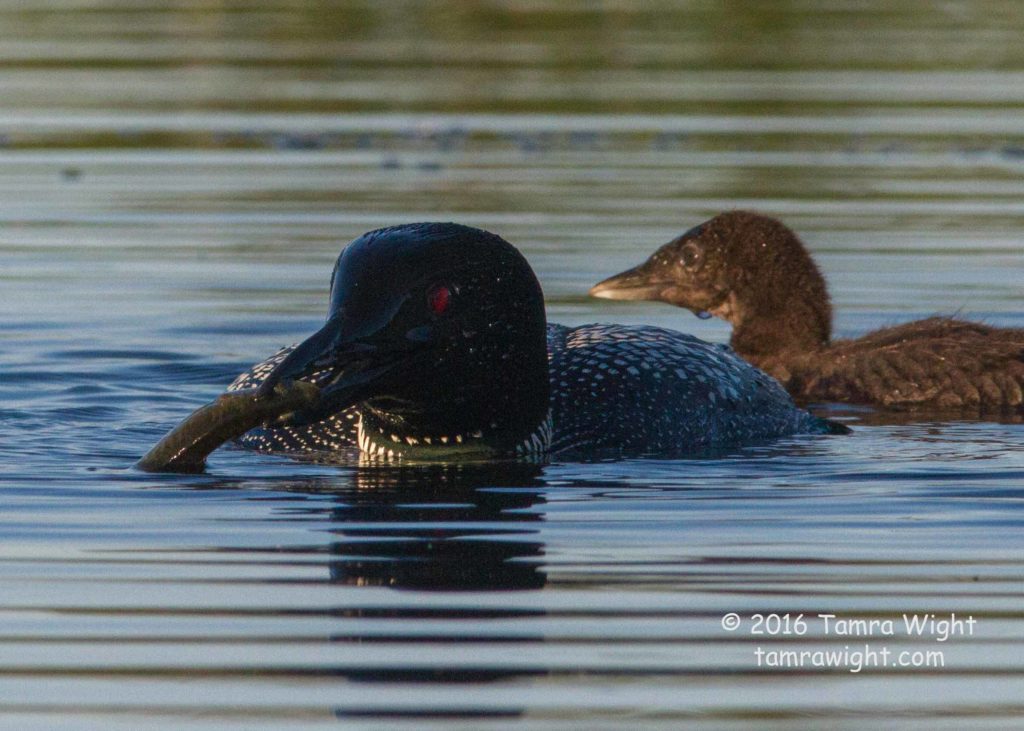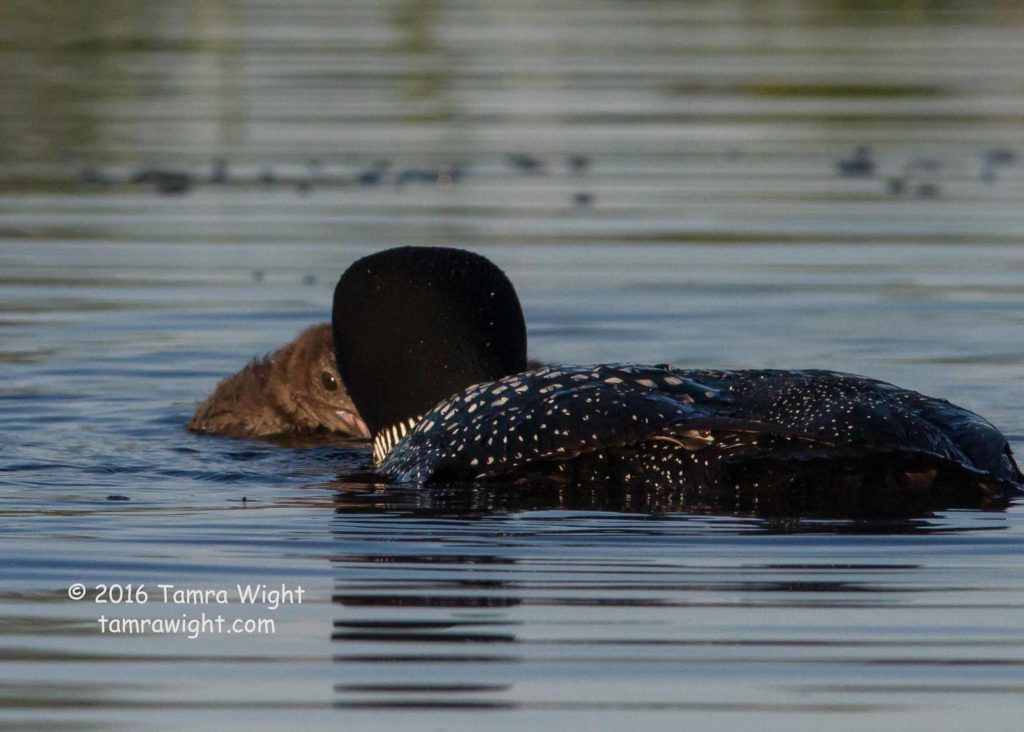 It didn't take long . . .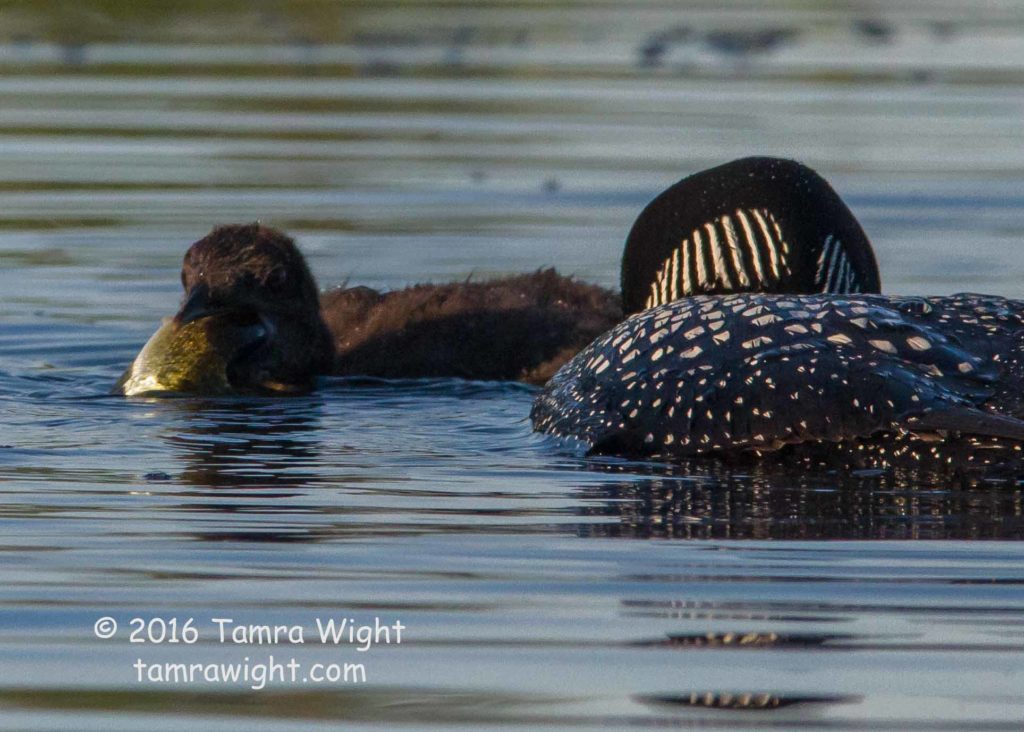 Just like the adults, the chick swallowed the fish whole, and head first.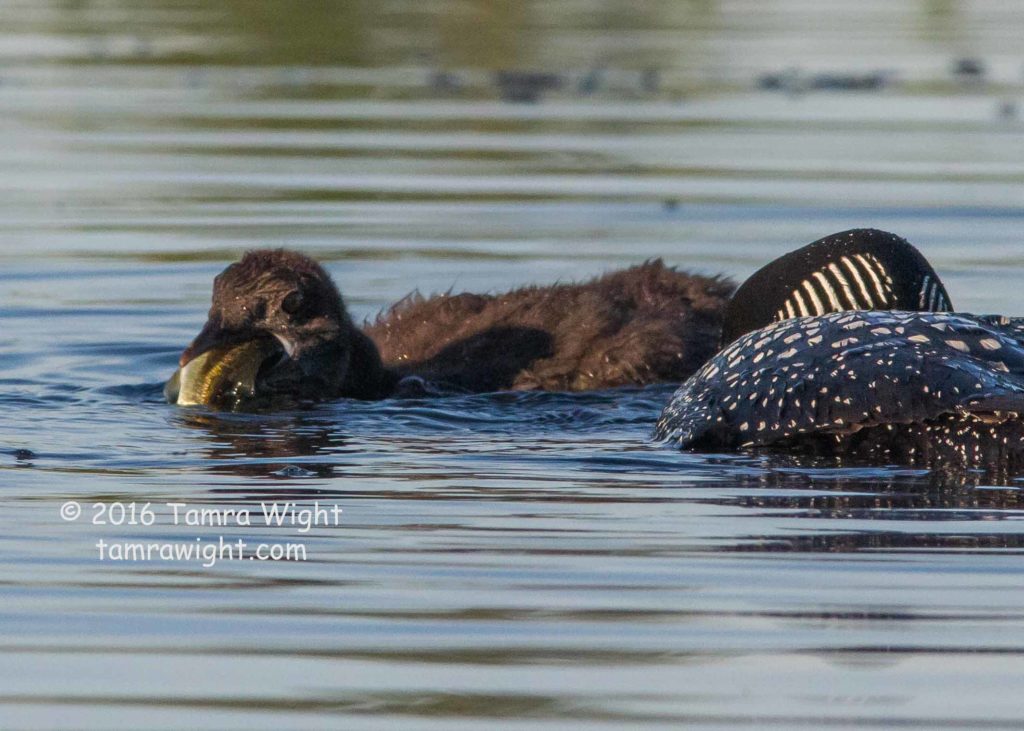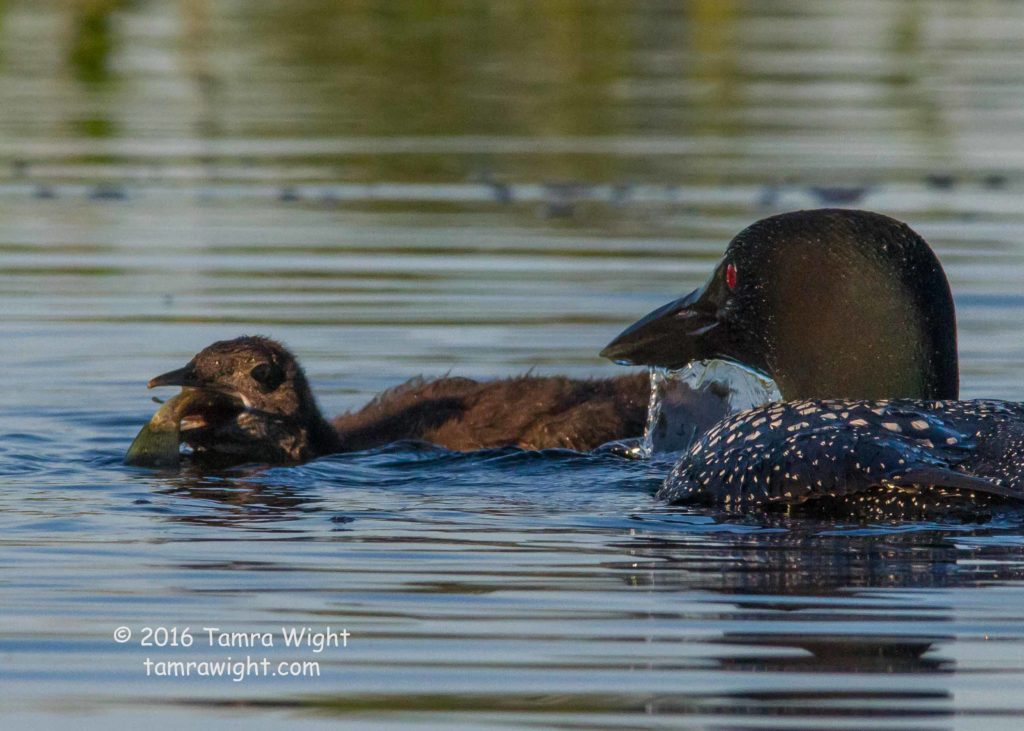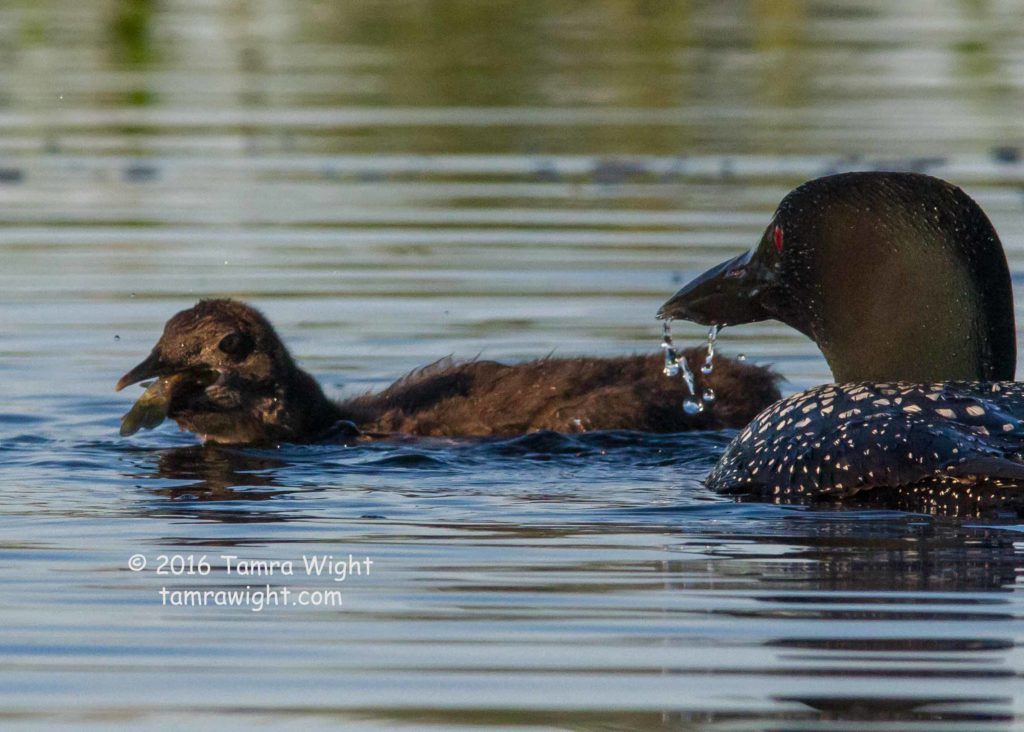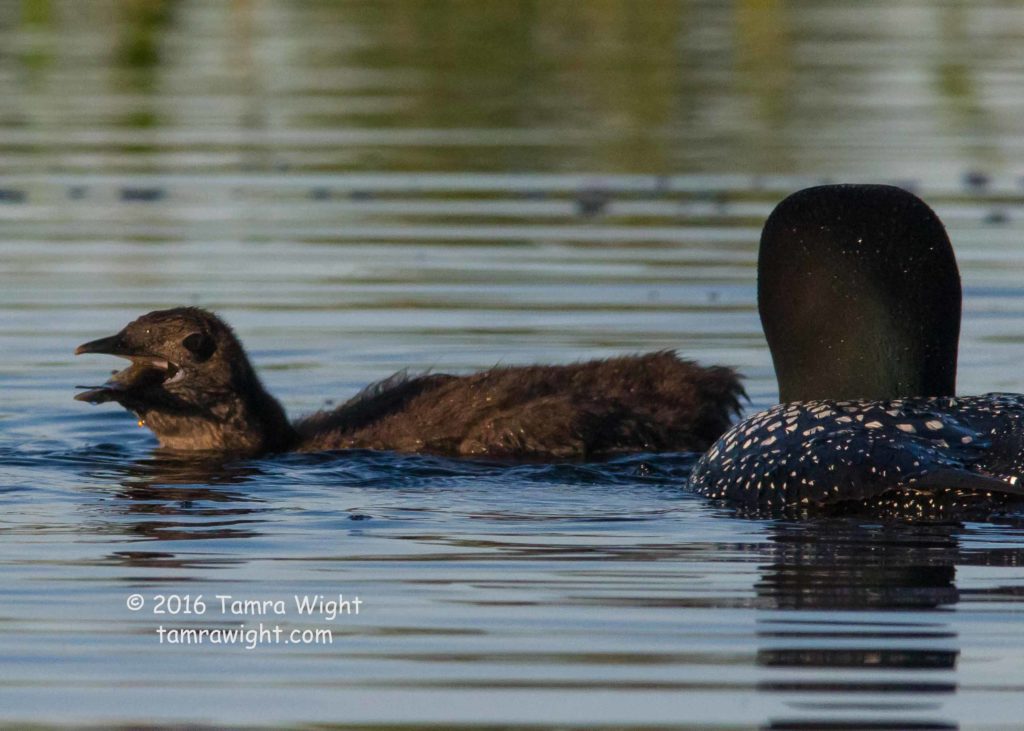 Where on earth does it "put" that much fish?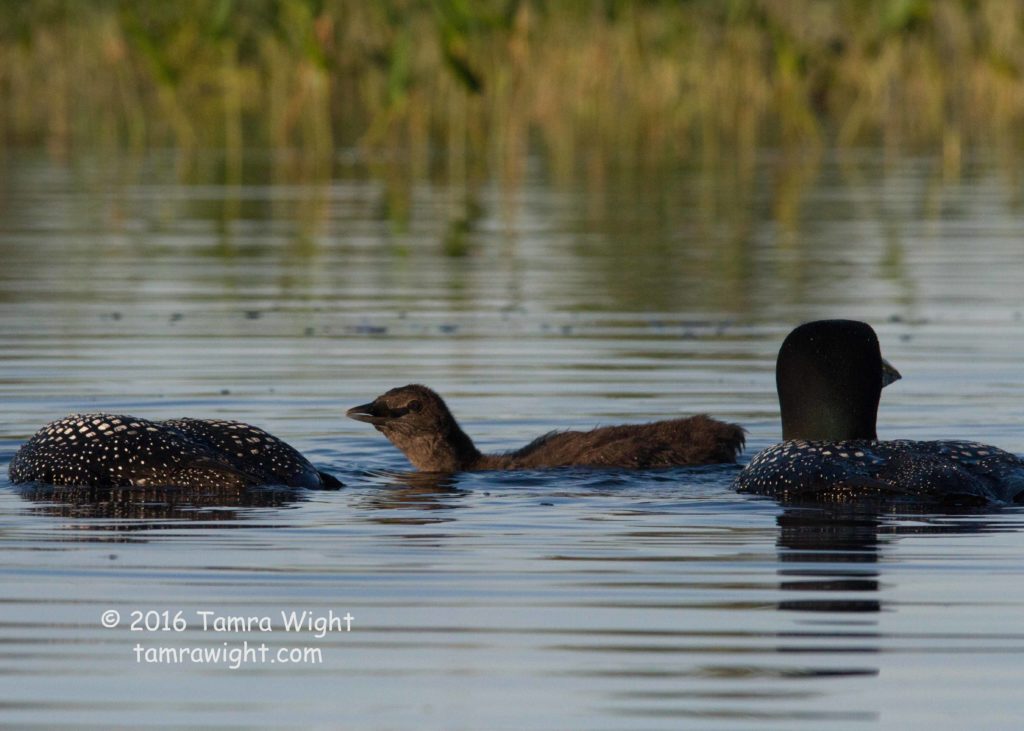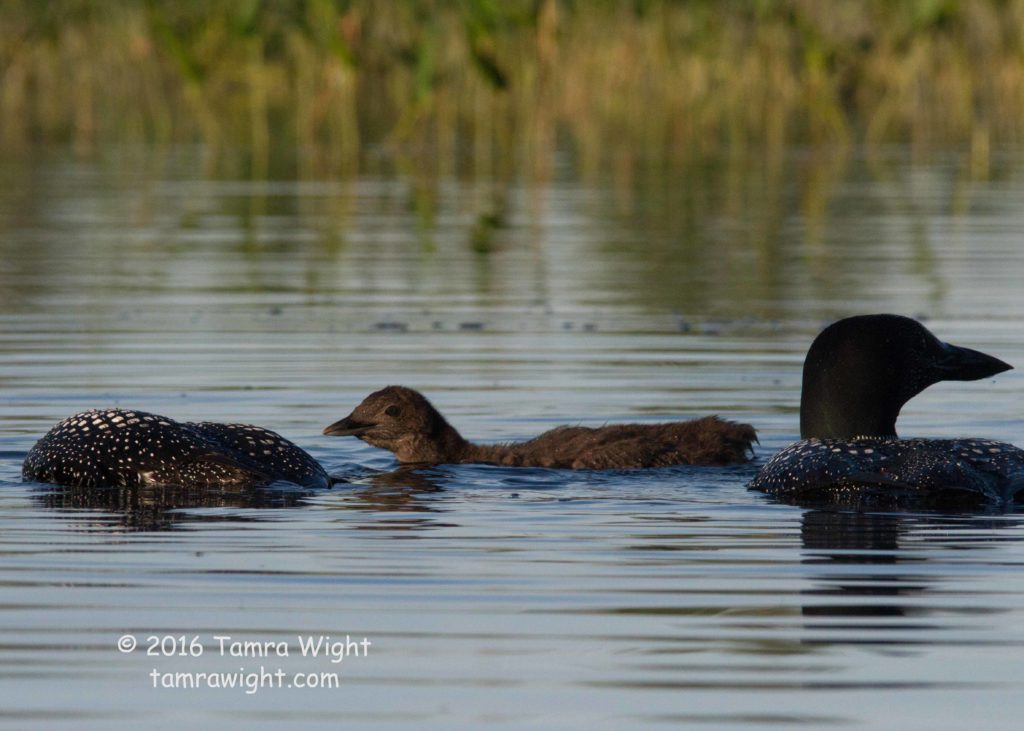 Yum!
Well, if you're a loon, that is!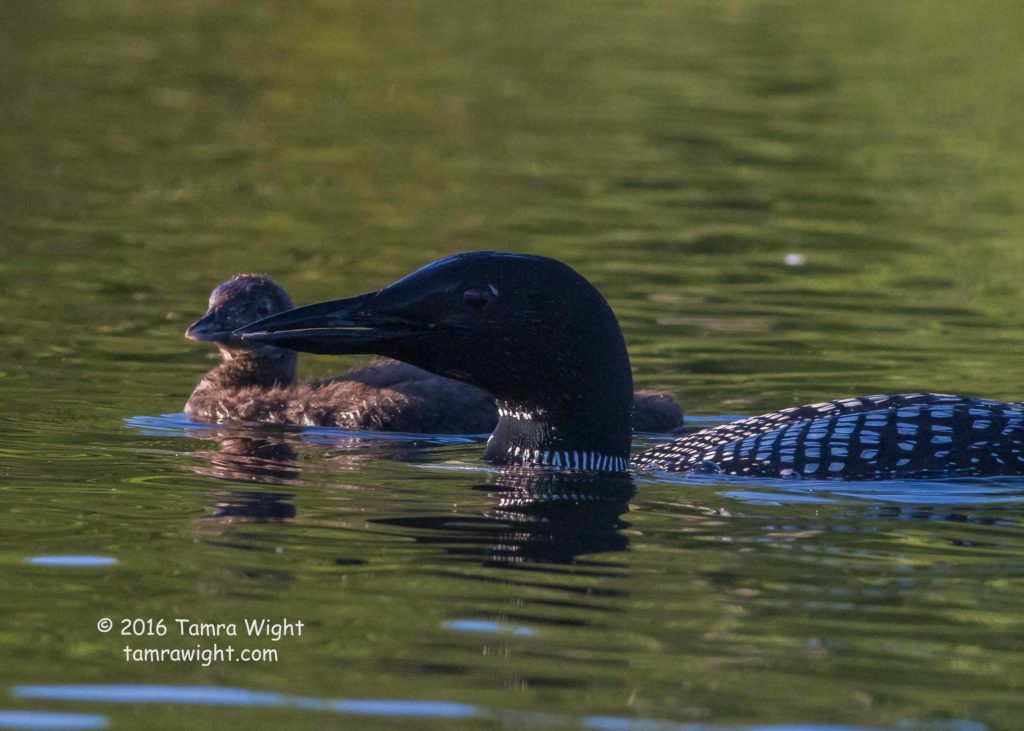 I almost felt like the chicks parent myself, I was so proud and comforted to know it had  grown and was eating. At this size and at 19 days old, I hoped it was too large to be a snack for a snapping turtle.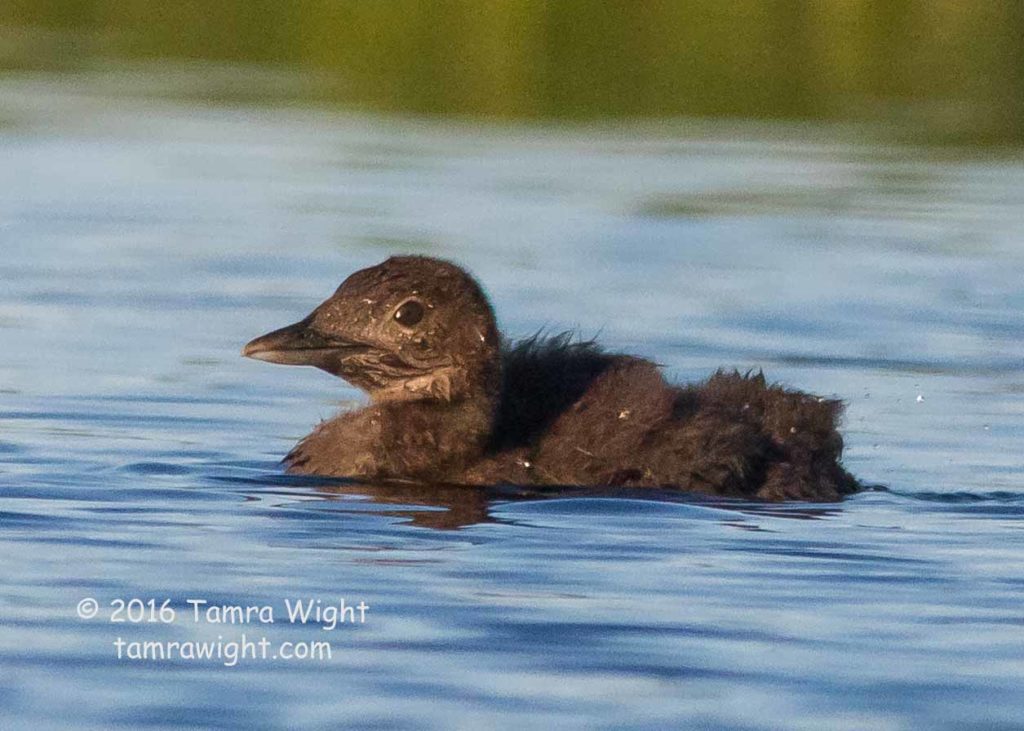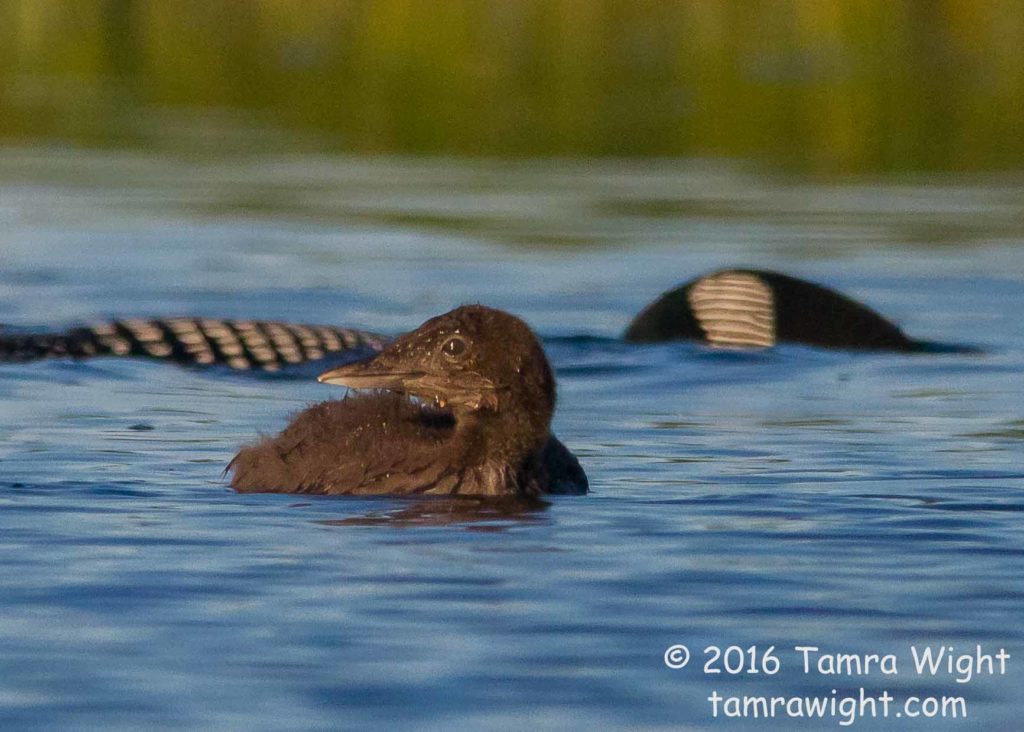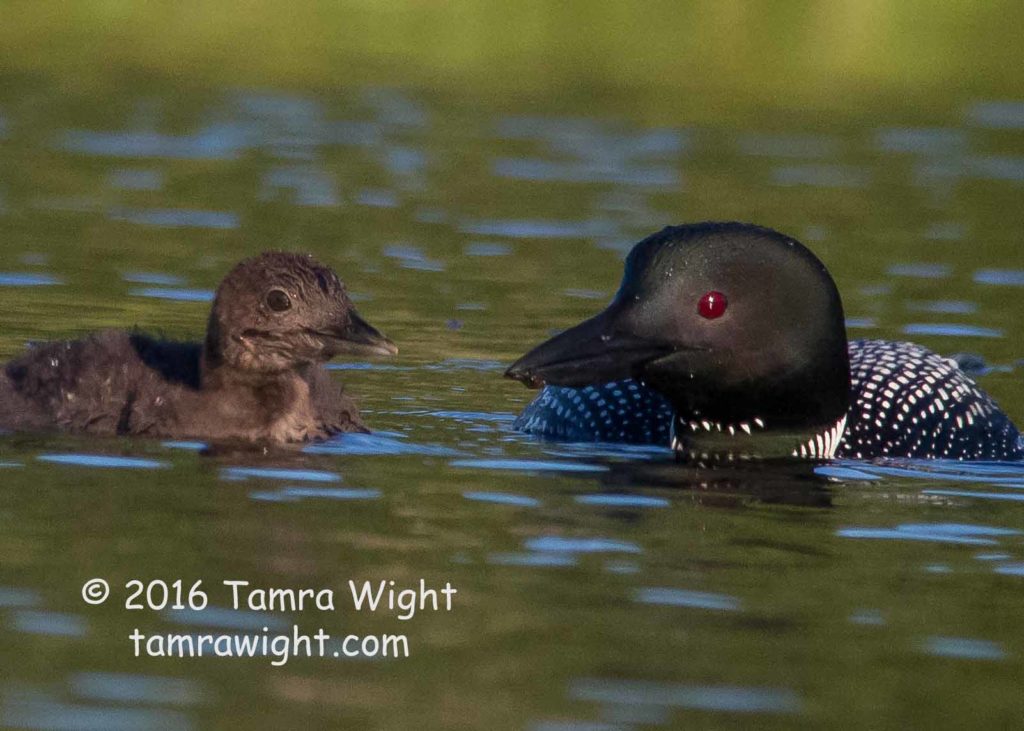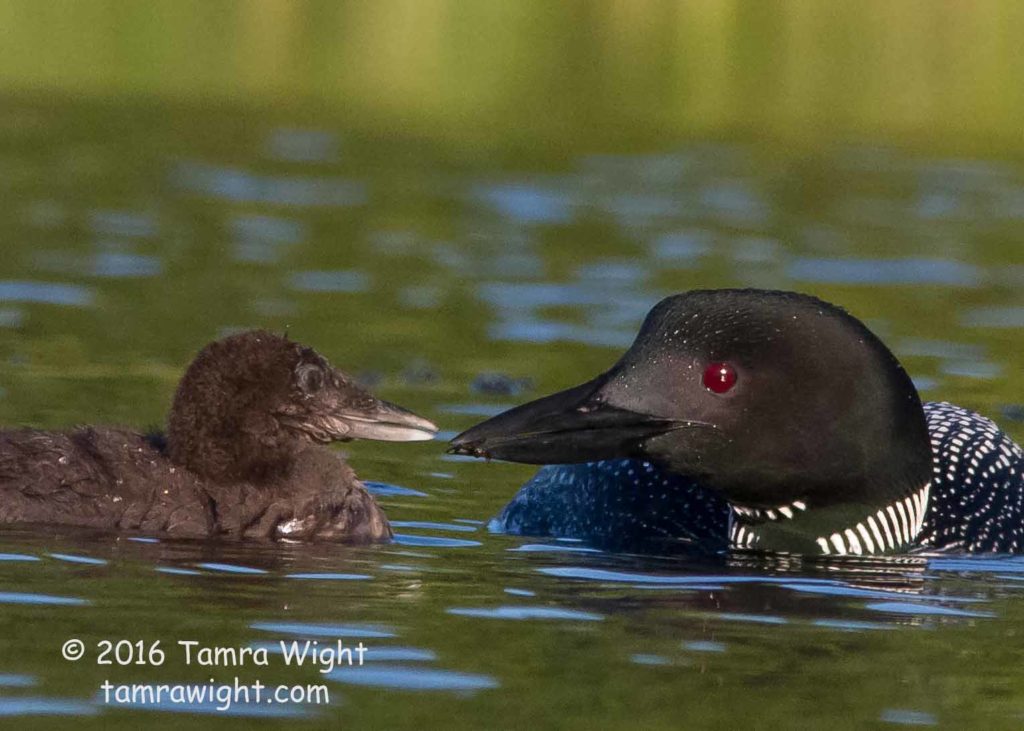 Every day that the chick lived, meant it had a better chance of survival.
And at this point, I had a feeling it was going to do well.
Note: Teachers, please feel free to use these blog posts in your lesson plans for Cooper and Packrat's first adventure;  Mystery on Pine Lake. From this point on, my observations could be the observations of Cooper, Packrat and Roy after the final pages of the story.
Next:  Hoot Behavior