Today, I hung up my teaching hat for the summer.  The campground hat sits facing forward, with my writing hat tucked underneath, waiting for it's chance to be worn on top.
Before I pulled down on the brim of either one though, I needed to take a little time for myself.
On the lake.
In the kayak.
With my camera.
Sitting on the water at 7:30am, sipping coffee and watching my loon, I let the stillness of the lake envelope me.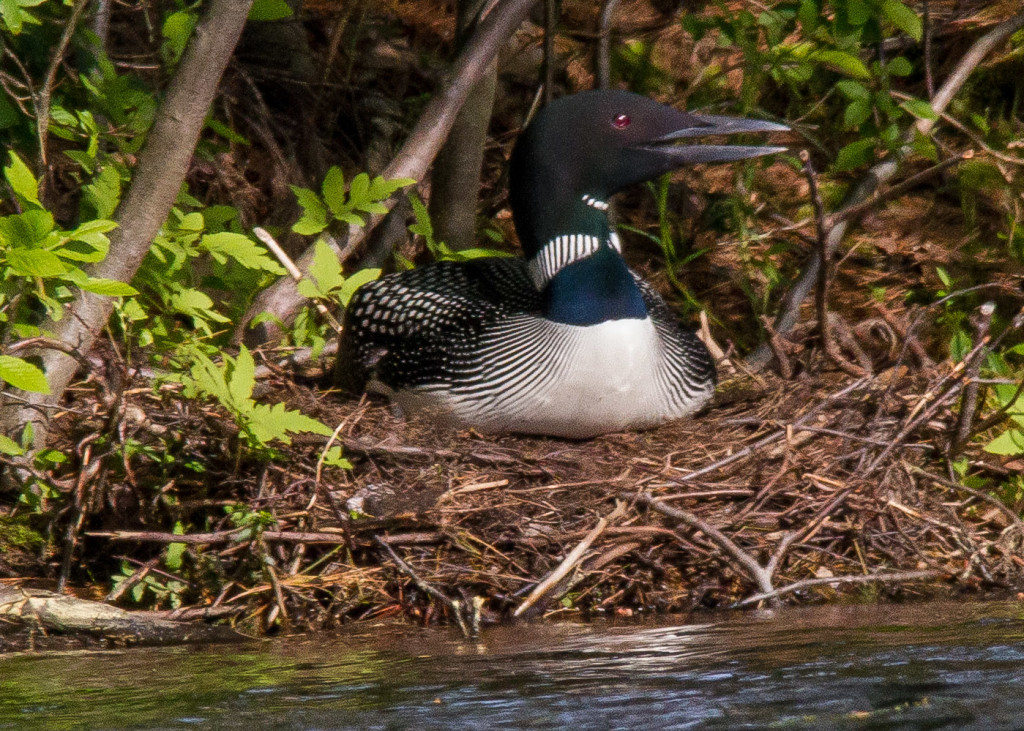 Eventually, I picked up my camera and began shooting photo after photo.
A raven called out overhead, and the loon looked upward.
A fish jumped between us and she looked down.
Ever watchful, is our loon pair.
As I lowered the paddle to take another sip of coffee, the breeze kicked up a bit.  At the same time, the water one hundred yards to my right began to bubble.  It churned.  And it was moving toward me!  Thoughts of the Loch Ness Monster and Ogopogo ran through my head.  (In defense of such outlandish thoughts – Shannon's and my students had done an extensive Fact/Fiction/Faction research unit on these two urban legends in the last months of school. Fascinating stuff!)
But my lake monster turned out to be a school of small silver fish, jumping out of the water.
Ha! I thought. Good thing the other loon isn't nearby-
It was!  He came from behind me to pass inches from the front of my kayak, not giving me a second glance. I held my breath as he surged toward the school, almost forgetting the camera in my hand.  He took that school of fish by storm.
In all the excitement, I hadn't paid attention to where the breeze had carried me.
I quietly picked up my paddle and turned the nose of my kayak away from the nest.  Then I paddled backward as quietly and quickly as possible.  I hadn't even taken five strokes, when she was back to sitting upright.
These solitary, solemn moments on the lake are precious to me right now.  Not only do they make me think of Cooper and his story, but they are a meditation of sorts as I switch from one busy job to another. In a week or two, there won't be many opportunities to get out on the water.
But that's okay too.
Because there's plenty of wildlife right out my window . . .