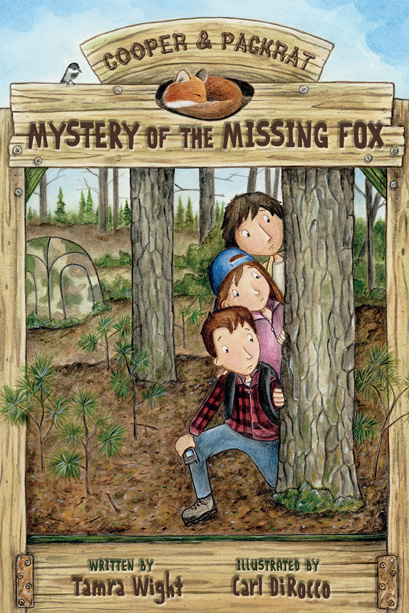 Cooper and Packrat's 3rd adventure has arrived! 
The stakes have never been higher for Cooper Wilder.
When an accident puts Cooper's dad in the hospital, Cooper must shoulder some new responsibilities. But he's distracted. First, he and his friends find a fox caught in an illegal trap on the campground's land. Then kits start to go missing from the fox den. Who would want to catch foxes? And why?
Cooper, Packrat, and Roy must protect the den, find the kits, and rule out Summer, the new girl who lives across the lake, as a suspect. Juggling new campground duties, feeling guilty over his father's accident, and desperate to help the fox kits, Cooper must make some tough decisions . . .

about who–and what–should come first."

________________________________
 Reviews and News
Mystery of the Missing Fox is a Junior Library Guild Selection book
"Wight neatly develops likable, quirky characters, and she artfully weaves in a host of kid-magnet subjects: zip lines, water fights, three-legged frogs, and uber-stinky sneakers. Readers will love the hilarious, heart-pounding scene when the mystery is resolved—as well as the charming denouement. DiRocco's fine illustrations heighten the book's  appeal . . . Young detectives will be charmed by the whole kit and caboodle."        ~Kirkus Reviews
"Mystery of the Missing Fox is Wight's most complex book yet, with multiple storylines, a large cast of characters and the most action-packed scene [Wight] has written to date."
~The Bangor Daily News
"The dialogue among the youthful cast of characters is realistic and will be relatable to many readers . . . Those new to the Wilders will be able to pick up the story with no problem."
~School Library Journal, May 2016
---
Signed paperback copies of Cooper and Packrat can be ordered 
 for $16.95 plus tax, plus shipping
email tami_@_tamrawight.com (minus the underscores)
for details and be sure to specify to who you'd like it signed,
and how you'd like it sent:
Media Mail ~ Priority ~ Overnight
 We will get back to you in 48 hours.
Or , order copies of Cooper and Packrat through 
 Ask about discounts for classroom sets or One School-One Read orders