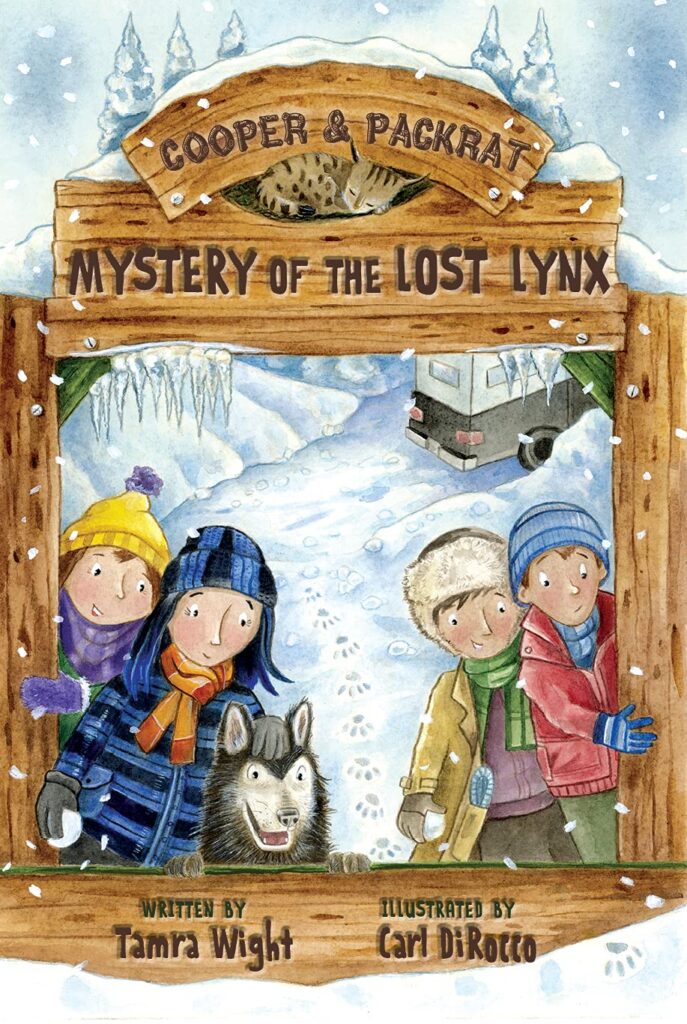 Cooper and Packrat's 5th eco-adventure
Just released June 2022!
It's wintertime at Wilder Family Campground!
Their favorite campground is opening for winter break, so Cooper, Packrat, Roy, and Summer are excited for snowy fun while helping plan a winter festival. But when they see a lynx kit wearing a pet collar, watch a reckless snowmobiler dash across the ice, and are warned about a dangerous poacher, the young detectives and some cool new friends set off on their most exciting adventure yet. Can they solve the mystery and protect the camp's wildlife from poachers before it's too late? Award-winning author Tamra Wight returns with her fifth installment in the Cooper and Packrat series and this time she introduces readers to a whole new season of fun, more excitement than ever, and even a hint of young romance at the Wilder Family Campground.
---
Reviews and News
Mystery of the Lost Lynx is a MoonBeam Gold Winner in the Pre-Teen, Mystery category
"Fans of aspiring game warden Cooper Wilder and his friend Packrat―whose useful collection of miscellany resides in his jacket's many pockets―will enjoy following the boys as their attention turns from setting up (with friends Roy and Summer) the premier winter festival at the Wilder family's campground to learning about a probable fur poacher nearby. Part of the fun for readers is trying to outguess Cooper's changing assessments as the clues pile up. Stylized, grayscale spot art is appropriately lighthearted and reassuring." ~ Kirkus Reviews

"An engaging mystery for wildlife lovers. Cooper and his best friends Packrat, Roy, and Summer are looking forward to a fun-filled week of outdoor adventures during the winter break in Maine. But after they spot a baby lynx in the woods and learn about reports of an illegal poacher in the area, the kids start investigating suspicious activities on their own. Facts about lynxes open each chapter, and animal-loving kids will appreciate all of the additional Maine wildlife details woven into this plot, not to mention the description of winter activities. A great choice for collections where mysteries are popular." ~School Library Journal